Tiara Shafiq
Writer, performer, and producer engaging in entrepreneurial and directorial endeavors with business knowledge gained from CORe
Where are you working?
I have just relocated to Melbourne, Australia, and am currently looking for work! As Creatrix Tiara, I have built up a 5+ year career and body of work in writing, performance art, and creative production across various fields, including publications and editorships with Autostraddle, Racialicious, The Scavenger, Mission@Tenth, Matador Travel, Vice Motherboard, Malaysiakini, and various others. I have also worked in education, community cultural development, and intersectional activism, whether with self-produced projects or with other organizations. Some of the places I have worked with include the Global Fund for Women, 4zzzfm Brisbane, Vulcana Women's Circus, Tutorpedia, Queensland University of Technology, Youth Arts Queensland, Zen Zen Zo, Channel [V] International, The Star (Malaysia), and many others.
Why did you decide to sign up for CORe?
As a result of a dare! My philosophy in life is to sign up for anything that looks interesting, and I had idly wondered about applying to high-prestige universities like Harvard. My father, who had taken the Executive Education program at Harvard Business School in the 90s and is now a massive fan of Harvard, challenged me to apply for the MBA program, and I took him on. In the process, he had heard about CORe from CNN and told me about it, so I looked into it and decided to apply. At the very least, it would give me a good standing on business fundamentals, which would go a long way to supporting my more entrepreneurial or directorial endeavors.
What was your favorite part of the program?
I actually found the program much more fun than I anticipated! Being able to talk to the other students in my cohort - especially when I started becoming a trusted cohort member and was getting valuable feedback - gave me a stronger investment in the program: not only was I learning, I was doing well, and was able to help others through my unique perspectives.
How are you applying what you've learned in CORe?
During my time in the program, I wrote weekly reviews relating what I've learned to the interests of most of my peers and community, which leaned mostly artsy or activisty. I managed to connect ideas like Willingness to Pay or the cobweb model into topics as diverse as sex worker rights or minimum wage. In my current job hunt, I am looking for opportunities to parlay what I've learned into more managerial or directorial roles in the arts & community development, where they would be most useful.
Any advice for people who will be taking CORe?
It will take up a lot of time! I was working on it practically full-time and there was still a lot to go through. And don't be afraid to speak up if something in the course didn't make sense or runs contrary to your experiences - I was VERY vocal about the ways that what we were learning may not reflect social justice-related ideals, and while it was confrontational people seemed to really appreciate my viewpoint.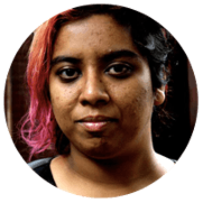 Education
Masters of Fine Arts, Creative Inquiry, California Institute of Integral Studies
Bachelors of Creative Industries, Interdisciplinary (Creative Industries Management, Creative & Professional Writing), Queensland University of Technology
Categories
Creatives
I had been intimidated by a lot of the content - particularly Financial Accounting, since the whole idea of understanding financial documents made me panic - but to my surprise everything was presented in very accessible, grounded, easy-to-understand ways.
Need More Information?
If you're looking for more information on how Harvard Business School Online programs can teach you the essential skills you need for success, request more information today.