Swamy Boggarapu
Social Innovator, Sustainability and Enterprise Reporting & Analytics Solution Architect
Why did you sign up for HBS Online courses?
I wanted to refresh my finance skills and learn more about business analytics to offer effective solutions to our clients. The Credential of Readiness (CORe) program offered both. The content was very detailed and deep. I'm sure I made a perfect decision by signing up for the program.
What did you enjoy most about learning with HBS Online?
The video lectures and various stakeholders were really amazing. The content was very deep and easy to understand. Since it was on-demand, we could attend at our convenience. The cohorts concept was really interactive and productive.
How are you applying what you learned in the courses you took?
I've started applying it in my day-to-day professional and personal lives. I'd been an active volunteer at multiple pro bonos for almost a decade but never realized the power of networking until I did the program Power and Influence for Positive Impact with Professor Julie Battilana. I've started applying the networking principles and collaborating with multiple pro bonos to make a much wider positive impact and onboard more connections to support the cause.
What advice do you have for managing the course workload?
The content is very deep and detailed. Don't wait until the last day to submit assignments, as you might need to rush and miss valuable content.
What advice do you have about using the HBS Online platform to engage and interact with other students?
Interacting with other cohort members is a great concept. I made many new friends and learned a lot. Be professional and active.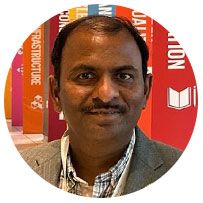 Job Title
Sustainability and Enterprise Reporting & Analytics Solution Architect, Capgemini
Categories
Life-long Learners
Non-profit
Consulting
"I got motivated and more optimistic about the success of giving life to my nonprofit organization."
Swamy Boggarapu
,
Sustainability and Enterprise Reporting & Analytics Solution Architect, Capgemini
Need More Information?
If you're looking for more information on how Harvard Business School Online programs can teach you the essential skills you need for success, request more information today.