Suhaib Ibrahim
Project Engineer from Syria currently working in Chicago
Where are you working?
Upon graduation, I accepted a position as a Project Engineer in TERRA Engineering, a Chicago based engineering firm. My role in TERRA involves working as a full-time consultant for the Illinois Department of Transportation (IDOT), which allowed me to work on projects throughout the state of Illinois. I also previously worked with Jasmine Baladi Studio, an NGO that works to support Syrian children in refugee camps in Turkey and Lebanon.
Why did you decide to sign up for CORe?
I came across CORe during my research for MBA programs. I read some reviews and articles about the program, and decided that I should give it a try. I am very glad that I did.
What was your favorite part of the program?
I loved the program a lot, and I can say every part of was my favorite part. However, attending ConneXt was my favorite moment in the program. What I liked the most about ConneXt was meeting all the people that I had communicated with them either through CORe platform or our Facebook group. I heard so many inspiring stories from students from all around the world.
How are you applying what you've learned in CORe?
Coming from an engineering background, I found the material in CORe very exciting. It helped me to better understand the fundamentals of business.
Any advice for people who will be taking CORe?
So, the first thing I want to say is that you will enjoy it a lot and you will make great friends out of it. Upon starting CORe, keep in mind that you will need to invest some time in it. If you can make some room in your schedule for extra time to spend on CORe, I recommend doing it. The time you need to spend on CORe will increase as you move forward in the program, and you should try to be prepared for that. Last but not least, have fun!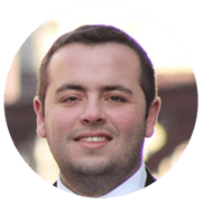 Education
BS, Civil Engineering, Illinois Institute of Technology's Armour College of Engineering, with earlier studies at Aleppo University and Damascus University
CORe is not an ordinary online learning platform; it is an amazing learning experience that will probably surprise you (as it did to me).
Need More Information?
If you're looking for more information on how Harvard Business School Online programs can teach you the essential skills you need for success, request more information today.