Peter LaBerge
Undergrad in creative writing who took CORe to help grow his poetry journal
What are you studying?
I am a junior English major with a concentration in creative writing and a minor in consumer psychology through the University of Pennsylvania's College of Arts & Sciences and Wharton School of Business. My primary interest on the English side is contemporary poetics, while my primary interests on the consumer psychology side include marketing, management, and entrepreneurship.
When I am not in class, I am predominantly serving as the Assistant to the Associate Director for Writing Recruitment through the Kelly Writers House and Penn Admissions, as well as the editor-in-chief of The Adroit Journal, a global online literary publication I founded as a high school sophomore. Since inception, the journal has released fourteen issues, received approximately 32,000 submissions from established and emerging writers, amassed a global staff of approximately 65 high school students and a monthly readership of approximately 40,000 viewers, and has been featured in or by TED, The Best American Series, NPR, and (most recently) Teen Vogue, among other outlets.
Why did you decide to sign up for CORe?
As the end of my freshman year of college drew near, I realized I was at a pivotal point in my academic career: I could either continue to rely on entrepreneurial instinct (which, honestly, had served me fairly well through my founding and developing The Adroit Journal to that point) or I could commit to establishing a strong understanding of economic principle, financial accounting, and business analytics.
Alongside this looming choice was the critical decision between majoring in English and majoring in communications; I had not yet taken any marketing courses in Wharton, and was thus not yet considering the potential of minoring in consumer psychology. What I did know, however, was that I had a lot of ideas—ones that I believed had promise, and should be heard—but I didn't possess the language to discuss or defend them in the company of others.
I also knew I had—and have—a tendency to push myself out of my comfort zone and to surprise myself in response. Perhaps I was the only student majoring in creative writing to enroll in the Harvard Business School Online program when I did.
I knew I was in the company of economics majors, finance majors, and even full-time business professionals, but was I really going to let the fear I might not have as nuanced an understanding of quantitative business concepts as others in my cohort hold me back? Not a chance. Enter: CORe.
What was your favorite part of the program?
My favorite portion of the program was definitely the acquisition of the language of quantitative business and analysis. I recently took a class called Data and Analysis for Marketing Decisions, taught by a terrific visiting professor from Cornell, Young-Hoon Park. I never would have prospered in that class without the intimate relationships with confidence intervals, hypothesis tests, and simple and advanced supply and demand logic that came about from the program. It is simply impossible in today's day and age—even at the undergraduate level—to collaborate in the business field without, as HBS Online calls it on its website, this "fluency."
How are you applying what you've learned in CORe?
During my summer as an HBS Online student, I realized that instinct is only one piece of the puzzle. I realized that it is important—no, essential­—to understand how to not only process and analyze the proper metrics to make effective decisions, but also communicate and defend these findings to stakeholders and colleagues. This has manifested through my increased emphasis on metrics with regard to The Adroit Journal and my simultaneous adjustment of perspective.
On a broader scale, I realized just how much I was missing out on by being limited to experimenting based on instinct. I would come to acquire the confidence to make bold yet educated decisions and take the journal into unprecedented territory.
Perhaps the most salient example is the journal's shift from print issues to online issues, which occurred beginning with the Winter 2014 issue. I had obtained my CORe certificate the prior summer, and was grappling with what I felt was a limited readership—about forty individuals per issue, fifty if I was lucky. I felt that moving the journal online may increase its readership, but may limit its perceived legitimacy—especially because, with a teenage editor-in-chief, the journal already had literary ageism working against it.
Collecting insights from analysis of consumer preferences via a survey I designed allowed me to confidently proceed with the transition, however. Soon, I had results as an endorsement. In two short years, forty readers turned into forty thousand per month, and the world—slowly but surely—began to take notice.
Other significant developments include the erecting of the annual online Adroit Journal Summer Mentorship Program, which has enabled more than one hundred high school students from around the world to connect and study writing without financial burden, and the journal's recent turn from critical reviews to interviews. It took being pulled beyond my instincts during the HBS Online program to really, truly locate and access my desired locus of creativity in business.
Any advice for people who will be taking CORe?
Be an ambitious and committed student, but don't focus on getting every question right. What's important is internalizing the new elements of the language, as well as the discussed techniques, and figuring out how—exactly how—you can turn your future ideas into unprecedented growth.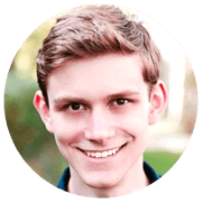 Education
BA candidate, Creative Writing, minor in Consumer Psychology, University of Pennsylvania
Categories
Creatives
I entered the CORe program with the assumption that business was binary in its reliance on creativity and science, on ideas and numbers. In reality, it's simply not. There are numbers behind the most successful marketing campaigns, brand directions, and management decisions.
Need More Information?
If you're looking for more information on how Harvard Business School Online programs can teach you the essential skills you need for success, request more information today.