Mohamed Khalifa
Currently pursuing a Masters in Electrical Engineering at the University of Sheffield, UK
Background
I'm 21, and I'm originally from Mauritania in North Africa. I've always been curious about how the world works around me, and this is why I took the decision to go to the UK back in 2011 and study Engineering. I really wanted a degree that would give me the building blocks to think critically about complex real life problems.
As part of my final year thesis, I'm exploring different ways of improving our overall energy efficiency using technology in order to meet the growing energy demand of the 21st century. I'm particularly looking into how the world of Big Data combined with the Internet of Things can be used to allocate and use energy resources in a more intelligent and efficient manner.
I'm fascinated by technology, and I spend a lot of time learning new skills and exploring new topics.
Current Situation
I'm currently pursuing a Master in Electrical Engineering at the University of Sheffield in the UK, and I will graduate in few months (July 2015). Taking CORe in this period of the year was particularly challenging for me as it was the busiest period of my entire degree. But with careful time planning and some extra efforts, it was definitely possible and really rewarding at the end.
What do you hope to get out of CORe?
I'm constantly looking at how technology is reshaping our world and how it is created but with a limited perspective. Up to now, I've focused on building and tackling the technical challenges in technology.
I really think every Engineer need to be familiar with the language of business, and I think there is nothing better than CORe to gain the fundamentals of business thinking.
The way CORe introduced the world of business really exceeded my expectations. Each topic is presented in a way that unleashes your inner curiosity and makes you really think deeply about each particular problem from several angles.
What's on the career horizon for you?
I will be joining Goldman Sachs as an Analyst in London in July. I'm really looking forward to it!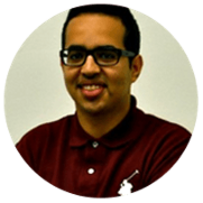 Job Title
Currently pursuing a Masters in Electrical Engineering at the University of Sheffield, UK
Education
Masters of Engineering, Electrical Engineering, University of Sheffield
Categories
Graduate Students
CORe is giving me that extra lens I was missing: how products, services and other contents are created, consumed and exchanged from a business perspective.
Mohamed Khalifa
,
Currently pursuing a Masters in Electrical Engineering at the University of Sheffield, UK
Need More Information?
If you're looking for more information on how Harvard Business School Online programs can teach you the essential skills you need for success, request more information today.