Enrique Garcia-Rivera
Pursuing a PhD in Chemical Biology in Boston
Play Enrique Garcia-Rivera Video
Background
I've always been curious about the world and its intricacies. Growing up I became fascinated by stars as I spent countless hours looking through a telescope, and began to grow a passion for understanding physical phenomena.
This took a sharp turn when I became aware of disease and the tremendous impact it can have on a community. How can we know so much about the universe and yet we are still largely powerless against these afflictions?
I turned my curious mind towards understanding diseases at the molecular level, and underwent training as an interdisciplinary scientist, focusing on bringing a new perspective to this problem.
Current Situation
Graduate work ensued, and now I devote myself to using the skills of chemistry and biology to uncover novel ways of treating diseases. Using the versatility of small molecules, I intend to dissect the molecular pathways underpinning various cancers.
What do you hope to get out of CORe?
After being immersed in the drug discovery process, I intend to take the next step and bring these to the bedside; a process I soon understood requires the power of the private enterprise. This meant that business is going to be as fundamental to this goal as science, and that's where CORe comes into play.
What's on the career horizon for you?
As I progress towards completing my graduate work, I'll continue my business education in preparation for the next step. It is my goal to take scientific discoveries through the entrepreneurship process, with the long-term goal of using this experience to work on a life sciences venture capital fund, helping advance the mission of curing disease and bringing science to society.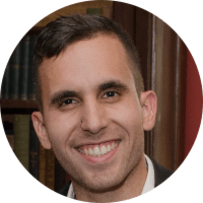 Job Title
Pursuing a PhD in Chemical Biology in Boston
Education
BSc, Interdisciplinary Sciences (Chemistry, Biology & Mathematics), University of Puerto Rico
PhD candidate, Chemical Biology, Harvard University
Categories
Technology / STEM
Graduate Students
Career Change
Entrepreneurs
By learning these essential business skills, I now feel more prepared to advance scientific discoveries; raising capital, leading a team, developing strategic partnerships with established pharmaceuticals, and other crucial activities are now even clearer to me because of CORe.
Enrique Garcia-Rivera
,
Pursuing a PhD in Chemical Biology in Boston
Need More Information?
If you're looking for more information on how Harvard Business School Online programs can teach you the essential skills you need for success, request more information today.