Carlvin Sylvain Dorvilier
Advertising specialist using his knowledge from CORe to more effectively serve his clients
What is your current job?
I'm currently an Account Manager at Tumblr. Prior to joining Tumblr, I was a Corporate Digital Sales Planner at Rodale, Inc. managing digital campaigns for all of Rodale's digital properties, while acting as the Runnersworld.com digital expert. During my time at Rodale, I was awarded Digital Sales Planner of the year in 2015 for increasing YOY digital net revenue and overseeing all aspects of advertiser's campaign planning, launch, executions, optimizations and recaps for over $2.5M. In addition, I was awarded "Best Collaboration" award among the Runner's World team for successfully merging the Editorial, Marketing, and Sales effort for all customized advertising programs for our advertisers.
Why did you decide to sign up for CORe?
As an Advertising major, being fluent in business wasn't going to determine my success. Creativity was essential. However, working in the publishing industry and breaking into the social media/tech industry, creativity could only carry me so far. One day I found myself lost in a meeting when our CEO was talking about the company's financial health and what he recommended that we to do remain competitive. As a competent employee, I smiled and nodded my head in understanding, not comprehending what had been decided. At that time, I knew that if I wanted to be a game changer, a future leader, or a powerful contributor, I had to learn this profound language in the most cost-effective and quickest fashion. After endless nights of searching, I stumbled upon CORe, and it was everything I was looking for in a program.
What was your favorite part of the program?
The community. A community is a societal structure that shares personal values and aspirations, but the CORe community is a residential area that is connected by offering and elevating. It is rare to have the opportunity to learn from professionals around the world, in different stages in their career, and from an array of professions striving for the same objective. Not only were we united on all social platforms, but also each city had several meetups organizing study groups, group outings, and networking opportunities to learn from one another. Without a strong community, we're just birds with broken wings.
How are you applying what you've learned in CORe?
Working in media, I work with brands around the world. My main goal as an Account Manager is to make sure my team and I are all offering the appropriate ad products to satisfy our client's campaign objectives and create a story with the insights I get from the data. The program helped me to confidently reveal hidden messages behind several reports, so I'm able to report valuable information to help my clients grow their social presence consistently while packaging ad products for immediate engagement, focused on longevity.
Any advice for people who will be taking CORe?
You're going to have nights where you're completely exhausted and think you could hold it off till the morning - don't fall into that ill temptation. Think back to the reason why you decided to join CORe: to advance your career, start your own business, or become a thought leader in your industry. Take that sensation in full emotion, and do not check back on that emotion. If you don't permit yourself to go all the way through them, you will never recognize your full potential. You have to work twice as hard, to get half what your future self wants. CORe and the people you meet through this transformative experience will be worth it – trust me.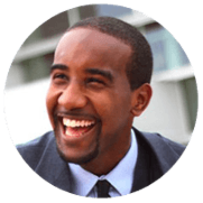 Education
BS in Advertising/Integrated Marketing Communications, Ferris State University
Not only was I able to expand my network so that I know someone in every major city around the world, but it also helped me land a job at a company that I absolutely love.
Carlvin Sylvain Dorvilier
Need More Information?
If you're looking for more information on how Harvard Business School Online programs can teach you the essential skills you need for success, request more information today.