Anthony Alvarez
Aerospace Engineering Student at the University of Florida
Why did you decide to sign up for a Harvard Business School Online course?
I decided to sign up for HBS Online because I was interested in supplementing my engineering curriculum with classes that teach me the fundamentals of business. I was always too busy at school with classes and student organizations that a business minor was not feasible. Since HBS Online is offered in cohorts (some occurring in the summer) I had the flexibility to take it when classes weren't in session.
What did you enjoy most about learning with HBS Online?
I enjoyed the online platform the most. I believe a strong graphical user interface makes the entire difference when offering an atmosphere of dynamic learning. Also, being able to interact with other students through discussions, questions, and comments made this group-oriented program more enjoyable and motivational.
How are you applying what you've learned in the courses you've taken?
I am still beginning my career in a large engineering corporation, however, in conversations about the aerospace industry with other employees, I will have the opportunity to partake and understand when corporate business decisions are made and announced. Additionally, with the thorough notes I took throughout the course, once I gain more years of experience in the industry and apply to an MBA program I'll be able to dig up my course content and refresh for the first day of my master's degree.
Any advice for people who will be taking HBS Online courses?
Go for it! It might seem intimidating at first because of the amount of work it requires, but like anything you reap what you sow. I guarantee the conclusion of this program will result in an abundance of knowledge that can be applied anywhere, no matter your field of study.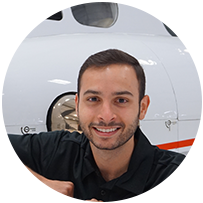 Job Title
Aerospace Engineering Student
Organization
University of Florida
Categories
Engineers
"During my conversation with a Boeing recruiter (my dream company), he was curious about my experience with HBS Online. He asked, 'What was the most impactful thing you learned from Economics for Managers?' Sparing details, I responded with the concept of WTP [willingness to pay] and how important it is to understand how to price a product. He loved my response, and I was fortunate to receive an interview, which led to an offer. Understanding E4M [Economics for Managers] helped me diversify myself as a STEM student in a conference full of technical perspectives."
Anthony Alvarez
,
Aerospace Engineering Student
,
University of Florida
Need More Information?
If you're looking for more information on how Harvard Business School Online programs can teach you the essential skills you need for success, request more information today.