Learning Tracks
Take your career to the next level and develop deeper insights and expertise with this immersive learning experience.
What Are Learning Tracks?
Learning Tracks enable participants to take three courses within a specific subject area to gain deeper insights and expertise. Those who successfully complete three courses from their selected Learning Track within 18 months will earn a Certificate of Specialization, which can bolster your resume and signify to employers your commitment to professional growth and lifelong learning.
In the process, you'll build a global network and cultivate skills you can immediately apply to advance your career, strengthen your teams, and improve your organization's performance.
HBS Online is currently offering a Learning Track in:
What You Earn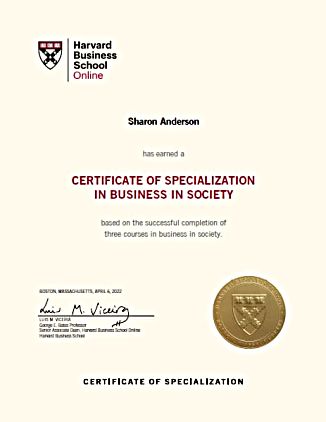 Certificate of Specialization
By completing any three courses within a Learning Track, you earn a Certificate of Specialization.
How Does it Work?
To earn a Certificate of Specialization, learners must successfully complete three courses from their selected Learning Track within 18 months. Individual courses range anywhere from four to eight weeks and typically require four to nine hours of work per week. Participants can complete the work on their own time while meeting weekly course deadlines.
Pricing Structure
First-time HBS Online learners will pay full price for their first course, and then receive a 30% past participant discount off their second and third course within the Learning Track.
What are the Benefits of Learning Tracks?
What Learners are Saying
The CEOs that interviewed me as I moved forward in my administrative career all remarked about HBS Online. I think the certificates help you get noticed and through the door to a job offer.
Having a deep understanding of strategy, from creation to execution, has helped me excel in my professional development. These courses have definitely been the most influential for my career.
These courses provided a strategic prism to better understand the disruptions, threats, and realities across today's business world. The Certificate of Specialization reflects the additional layer of expertise acquired and enhances my professional standing.
This is a great foundation for practically applying high-integrity, humanistic organizational leadership and management, which is invaluable in today's rapidly-changing, technology-focused world.
Need More Information?
Review our Frequently Asked Questions to learn more about requirements, costs, and policies.