Certificates, Credentials, & Credits
Harvard Business School Online equips learners with vital business knowledge, applicable skills, and resume-worthy accolades. Each program offers varying levels of certification—from undergraduate credit to a Credential of Readiness. Explore what you can earn and the requirements for completing an HBS Online program.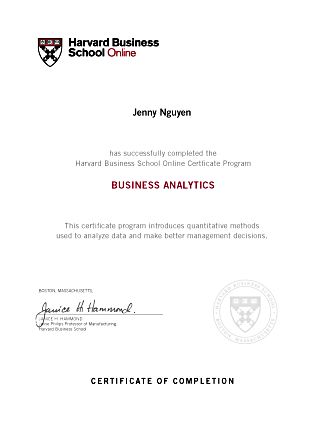 Certificate of Completion
All paid HBS Online courses, with the exception of CORe, grant a Certificate of Completion. While each program can be completed on your own schedule, there are weekly deadlines to ensure you're progressing through the course in step with your peers and taking full advantage of all networking and social learning opportunities.

To earn a Certificate of Completion, you must complete all coursework in a thoughtful and timely manner, including meeting weekly deadlines, finishing assignments, offering feedback on others' reflections, and contributing to conversations on the course platform.

Explore our Certificate FAQs for more information.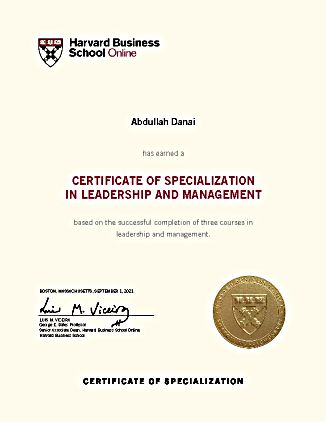 Certificate of Specialization
If you've finished an individual course and want to dive deeper into the subject, you might consider pursuing a Learning Track to earn a Certificate of Specialization.

Learning Tracks enable you to take three existing HBS Online courses within a specific subject area. If completed successfully, you'll earn a Certificate of Specialization, which can bolster your resume and signal to employers how committed you are to professional growth and lifelong learning.

To earn a Certificate of Specialization, you must complete three courses from your selected Learning Track within 18 months. HBS Online currently offers a Learning Track in Leadership and Management and Strategy. To determine which courses qualify, visit our Leadership and Management and Strategy pages.

Explore our Learning Track FAQs for more information.
Credits
During the January, May, and September offerings of CORe, there is also the option to earn eight undergraduate credits through Harvard Extension School. The course content, deadlines, and grading process are the same; what differs is the cost for the undergraduate credits and additional benefits.

By pursuing the for-credit option of CORe, you receive access to Harvard Extension School student resources, including libraries, career advising, workshops, and education tax credit and loan deferments. You may transfer the credit to your current institution, yet it is up to the accepting university to determine eligibility.

Are you interested in taking the next step in your career? Explore our online course catalog to find the right fit.