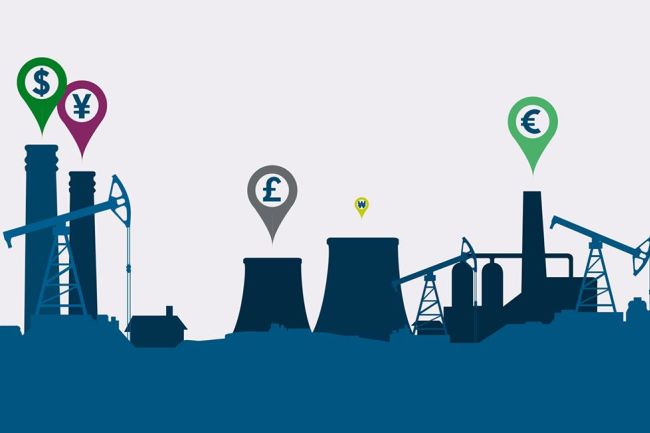 Explore the Intersection of Investment and Impact
Sustainable Investing course teaches how to evaluate environmental, social, and governance (ESG) factors and how to manage impact investments.
Apply Now
What You'll Learn
Explore the evolving sustainable investing landscape
Understand how to incorporate ESG factors into investment decisions
Apply frameworks to measure and monitor sustainable investment opportunities
Analyze cutting-edge implementation strategies
Gain insights into the climate risk inherent in investment opportunities
Discover how to integrate risks into financial models
Think critically about how and where to add value while avoiding "impact washing"
About the Professors
Shawn Cole is the John G. McLean Professor of Business Administration at Harvard Business School. He's an affiliate of the National Bureau of Economic Research and the Bureau for Research and Economic Analysis of Development. Cole is also a co-founder and board chair of the global nonprofit Precision Development, which provides customized digital information and services to smallholder farmers in developing countries.
Vikram Gandhi is a Senior Lecturer of Business Administration at Harvard Business School. He's the founder of impact investing platform Asha Impact and senior advisor to the Canada Pension Plan Investment Board. Gandhi is also a chairperson on the board of the Growth for Good Acquisition Corporation, a special purpose acquisition company (SPAC) which seeks organizations with innovative solutions critical to creating a more inclusive, sustainable world.




Who Will Benefit
Investment Professionals
Learn how to evaluate, measure, and manage sustainable investment opportunities with cutting-edge frameworks, strategies, and techniques.
Financial Advisors, Consultants, and Government, Business, and Nonprofit Leaders

Gain frameworks and analytical tools you can apply to make future financial decisions that serve your clients' or organization's goals and objectives.
Early-Career Professionals
Develop practical skills you can apply to one of the fastest-growing fields in finance.
Please Note: To succeed in the course, participants should have completed an introductory finance course or equivalent at some point during their education and possess a basic understanding of investment management, capital markets, and asset classes.
Program Structure
Sustainable Investing consists of approximately 30 hours of material delivered over a six-week period. You can complete the coursework on your own time while meeting regular deadlines.
Interested in using this course for CFA Institute credit? The CFA Institute—including the Chartered Financial Analyst and Certificate in Investment Performance Measurement programs—allows its members the ability to self-determine and self-report continuing education credits earned from external sources. CFA Institute members are encouraged to self-document such credits in their online Professional Learning tracker.
March 2023
Length: 6 Weeks
Program Dates: 3/22/23 – 5/3/23
Cost: $1,750
Application Deadline: March 13
Apply Now
Deadline: 3/13/2023
May 2023
Length: 6 Weeks
Program Dates: 5/17/23 – 6/28/23
Cost: $1,750
Application Deadline: May 8
Apply Now
Deadline: 3/13/2023
Sustainable Investing is part of the Finance & Accounting and Business in Society Learning Tracks. If you're interested in developing deeper insights and expertise, you can choose to complete three finance & accounting or three business in society courses within 18 months to earn a Certificate of Specialization.
Syllabus
Sustainable Investing will equip you with the insights, frameworks, and skills to evaluate environmental, social, and governance (ESG) factors and measure and manage impact resulting from investments. You will explore the evolving sustainable investing landscape, understand how to incorporate ESG factors into investment decisions, gain insights into climate risk and how to incorporate those implications into financial models, and develop your own perspective on the interaction of investing and impact.
Learning requirements: In order to earn a Certificate of Completion, participants must thoughtfully complete all 6 modules, including satisfactory completion of associated quizzes, by stated deadlines.
Modules
Case Studies
Takeaways
Key Exercises
Module 1: Overview of Sustainable Investing

Morgan Stanley
Goldman Sachs
Omidyar Network

Understand key terminology
Develop an understanding of the sustainable investing sector and its importance and viability

Categorize business model characteristics and environmental, social, and governance criteria
Reflect on challenges and opportunities of sustainability strategies

Module 2: Public Equities

CalSTRS
Generation Investment Management

Understand the role of ESG factors in public market investing
Evaluate different approaches to incorporating ESG as an asset owner or manager
Relate ESG-based investment strategies to risk and return

Evaluate the ESG performance of various companies
Match ESG use cases to corresponding strategies
Articulate divestment goals and theories of change

Module 3: Venture, Private Equity, and Sustainable Debt

DBL Partners
Meridiam
TPG: The Rise Fund

Identify sources of value-add in private impact investing
Analyze how managers weigh financial and social returns, including understanding "impact washing"
Develop an understanding of different types of sustainable debt

Analyze characteristics and assess performance of funds and fund managers

Module 4: Measuring, Managing, and Accounting for Impact

60 Decibels
TPG: The Rise Fund

Interpret and analyze frameworks for managing and measuring environmental and social factors
Evaluate causal attribution of impact
Integrate impact measurement into investment and management processes

Break down an impact logic chain
Calculate expected impact, risk-adjusted total impact, and impact multiple of money score

Module 5: Integrating Climate Risk and Financing Climate Solutions

Breakthrough Energy Ventures
Generate Capital
TotalEnergies Ventures

Understand fundamentals of climate finance and climate risk inherent in investment portfolios
Integrate climate-related risks and opportunities into investment analysis

Relate Sustainable Development Goals and climate change
Consider challenges of climate change and scaling up climate solutions

Module 6: Long-Run Theories of Change

Social Finance
Ford Foundation

Analyze how mission-driven nonprofits measurably increase their impact
Envision and examine the future of sustainable investing

Assess outcomes of the Pay-for-Success model
Analyze risks and opportunities of missionrelated investments
Prioritize course takeaways and how to implement them
The HBS Online Advantage
World-class faculty
Edge-of-your-seat online learning
Global peer collaboration and networking
Real-world, case-based learning
Harvard Business School Online offers a unique and highly engaging way to learn vital business concepts. Immerse yourself in real challenges faced by industry-leading experts at organizations such as Goldman Sachs, Morgan Stanley, Omidyar Network, Cambridge Associates, State Street Corporation, Generation Investment Management, CalSTRS, DBL Partners, Meridiam, TPG: The Rise Fund, 60 Decibels, Breakthrough Energy Ventures, Generate Capital, TotalEnergies Ventures, Social Finance, and the Ford Foundation.
Stories from Our Learners
HBS Online was an invaluable and essential education. The information provided, the quality of the presentation, and the high-level engagement among students surpassed my expectations.

The platform was engaging, innovative, and allowed me to interact with the material in a way I never expected from an online course.

A few weeks into the course, accounting terminology came alive as I realized why accounting is the language of business. I can now talk confidently with clients and understand the business aspect of their problems.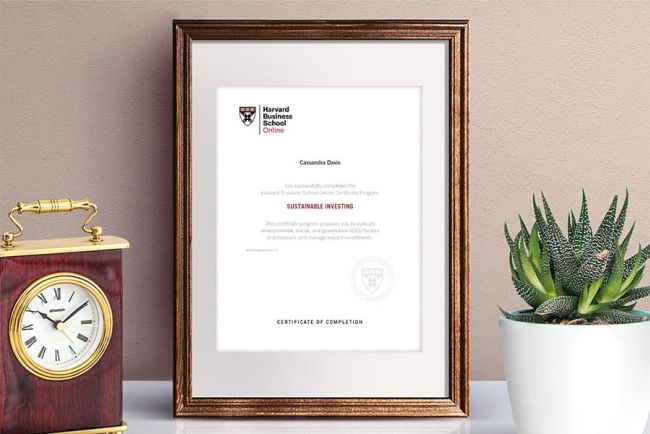 Earn Your Certificate
Enroll today in Harvard Business School Online's Sustainable Investing course.
Apply Now