Sustainable Business Strategy
$1,750
Next 3-week session starts February 14th
Develop the tools and techniques to become a purpose-driven business leader.
Self-Paced
with regular deadlines
Who Will Benefit
Learn how businesses can effect change, and how you can influence others using a values-driven approach in the for-profit space.
"I am early in my career and am looking for a path to becoming a chief sustainability officer or sustainability manager with a company I can align my values with. This class seemed like the perfect opportunity to give me the right tools to learn more about this field."

Desirée Kaplan
Writer at Green Matters
Identify strategic opportunities and articulate the business case for sustainability to achieve corporate social responsibility (CSR) goals within your or your clients' organization.
"I now have a better understanding of sustainability and which companies are doing it right. I'm armed with talking points proving that sustainability is good for business, the environment, and its people."

Brooks Wallace
Public relations professional looking to learn about sustainable business practices
Take a values-driven approach to business and learn how you can succeed financially while also playing a role in solving some of the world's most pressing problems.
"The course has completely changed me today. I feel like a new person, with a new thought process, driven by purpose, committed to doing the right thing."

Mayank Dubey
Manager, Marketing Communications at Endress+Hauser
What You Earn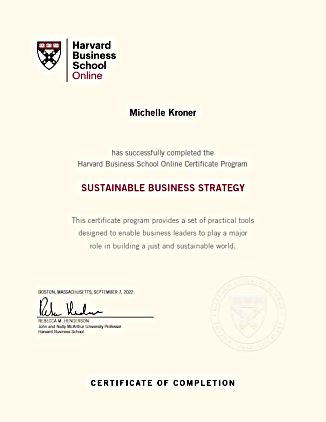 Certificate of Completion
Boost your resume with a Certificate of Completion from HBS Online
Earn by: completing this course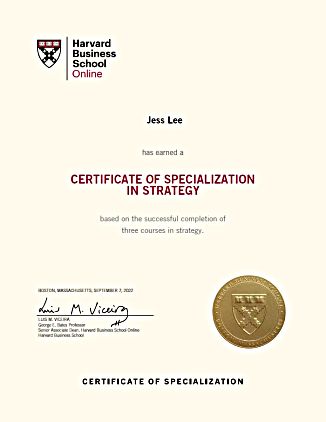 Certificate of Specialization
Prove your mastery of strategy or business in society
Earn by: completing any three courses within either subject area to earn a Certificate of Specialization
Syllabus
3 Modules, 20-25 Hours
Module 1
The Business Case for Action
Understand the business case for change and how to analyze and assess industry disruptions to develop business models that create shared value.
Concepts

Lipton Tea

Business Models

Jumping the S Curve and Dealing with Uncertainty

Featured Exercises

Business model and stages of disruption identification exercises

Team meeting #1
Module 2
Driving Change at Scale: Moving Beyond the Firm
Learn what purpose-driven firms are, the "Wheel of Change," and why businesses must act to solve large global issues, such as climate change and income inequality.
Concepts

Infectious Change

Public Goods Problems

Cooperation in the Real Economy

Expanding on Purpose

Featured Exercises

Public good simulation game

Prisoner's dilemma analysis

Team meeting #2
Module 3
Purpose-Driven Systemic Change
Analyze key stakeholders' roles—including investors and the government—understand why "systems thinking" is necessary, and develop a personal plan for how you can drive change.
Concepts

Business and the Broader System

Changing the Rules: Focusing on Governance and Finance

Business & Politics: Driving Systemic Change

Individual Action in Business

Featured Exercises

Values and purpose reflection exercises

Team meeting #3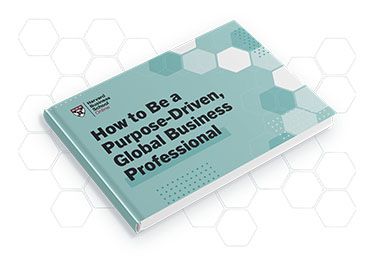 This guide will equip you with the skills needed to define your purpose, make the case for corporate social responsibility to internal stakeholders, further your education, and help enact change.
Our Difference
Sustainable Business Strategy provides participants with the knowledge and tools to become purpose-driven business leaders.
Dates & Eligibility
Starting
Feb
14
Application deadline February 5
Starting
Apr
17
Application deadline April 8
Learner Stories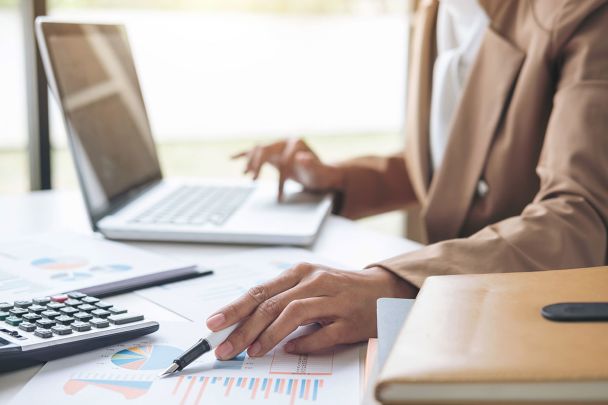 80%
Rarely does a day go by where I don't see a business leader or company wrestling with the same issues that we discussed in class on the front-page of the Wall Street Journal. These issues are more relevant than ever and top of mind for many of the companies I work for as a consultant. They continue to inform my own personal worldview of capitalism, and my own role in shaping society as a future business leader.
SBS - Kathy Choi
Consultant, Boston Consulting Group
The course shifted my worldview: what the most pressing problems are, who comes up with solutions, and how we get there. Professor Henderson pushed hard for us to think deeply about systemic change when it's easy to be satisfied with small wins. Though the course is focused on the private sector, in my public sector job, I often reference the learnings when considering how best to work with businesses so we can leave the world better than we received it.
SBS - Henry Tsai
Technology & Innovation Policy Advisor, San Jose Mayor's Office
* Source: 2022 surveys and course data
All FAQs
Sustainable Business Strategy FAQs
Participants in Sustainable Business Strategy are eligible for a Certificate of Completion from Harvard Business School Online.
Participants are expected to fully complete all coursework in a thoughtful and timely manner. This will mean meeting each week's course module deadlines and fully answering questions posed therein. This helps ensure your cohort proceeds through the course at a similar pace and can take full advantage of social learning opportunities. In addition to module and assignment completion, we expect participation in the social learning elements of the course by offering feedback on others' reflections and contributing to conversations on the platform. Participants who fail to complete the course requirements will not receive a certificate and will not be eligible to retake the course.
More detailed information on course requirements will be communicated at the start of the course. No grades are assigned for Sustainable Business Strategy. Participants will either be evaluated as complete or not complete.
You will have access to the materials in every prior module as you progress through the program. Access to course materials and the course platform ends 60 days after the final deadline in the program.
At the end of each course module, you will be able to download a PDF summary highlighting key concepts introduced in the course. At the end of the program, you will receive a PDF compilation of all of the module summary documents. We hope the module summary documents will serve as a helpful resource after you finish the course.
Harvard Business School Online
Certificate in Sustainable Business Strategy
[Cohort Start Month and Year]
List your certificate on your LinkedIn profile under "Education" with the language from the Credential Verification page:
School: Harvard Business School Online
Dates Attended: [The year you participated in the program]
Degree: Other; Certificate in Sustainable Business Strategy
Field of Study: Leave blank
Grade: "Complete"
Activities and Societies: Leave blank
Description:
Sustainable Business Strategy is a 3-week, 15-20 hour online certificate program from Harvard Business School. Sustainable Business Strategy provides participants with the knowledge and tools to become a purpose-driven business leader. This course explores different business models that companies use to drive change and explains why purpose driven businesses are in the best position to tackle the world's biggest problems. Participants learn how to influence management and other key stakeholders on the competitive advantages of being a purpose-driven firm, and how to make a difference by integrating values into strategy without sacrificing profit.
The program was developed by leading Harvard Business School faculty and is delivered in an active learning environment based on the HBS signature case-based learning model.
Participants will be organized into small teams at the start of the course. These teams will be called upon throughout the course to participate in more personal discussions around specific topics. Team assignments will not be graded, but they are expected to be completed.