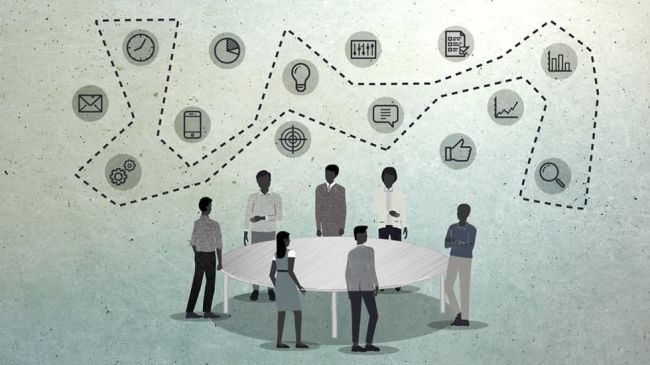 Successfully Implement Strategy Within Your Organization
Strategy Execution will equip you with the tools, skills, and frameworks to allocate resources, measure performance, manage risk, and execute strategy. You'll explore common challenges that prevent or derail implementation and learn how to design systems and structures that meet your organization's strategic objectives.
Apply Now
What You'll Learn
Apply frameworks, tools, and goal-setting and tracking exercises to your own strategic initiatives
Evaluate and elevate your team's management of the core tensions of strategy execution, including how to balance growth, profit, and control
Design measurement systems for every dimension of business performance
Identify and manage risks that could derail strategy execution
Empower employees through proprietary frameworks like the Job Design Optimization Tool, which helps design high-performance jobs that enhance a team's ability to execute critical responsibilities
Foster successful strategy execution by establishing an environment that communicates which opportunities and behaviors are encouraged and which are out of bounds
About the Professor
Robert Simons is a Baker Foundation Professor at Harvard Business School, and has taught courses on strategy execution, management control systems, and accounting for more than 30 years. His book, Levers of Control, which describes how effective top managers balance innovation and control, won the Notable Contribution to Management Accounting Literature Award. For three consecutive years, he's also been named one of the top four best-selling business case authors in the world by The Case Centre. His other books include Seven Strategy Questions: A Simple Approach for Better Execution and Levers of Organization Design: How Managers Use Accountability Systems for Greater Performance and Commitment.
Who Will Benefit
Mid-Level Managers and Professionals
Gain the frameworks and tools to improve strategy execution within your team, department, or organization.
Aspiring Managers

Prepare for a managerial role and position yourself for advancement by learning how to effectively implement strategy.
Entrepreneurs and Consultants
Design new structures and systems to manage the core tensions of strategy execution and meet business goals.
Program Structure
Strategy Execution consists of approximately 40-45 hours of material delivered over an eight-week period. You can complete the coursework on your own time while meeting regular deadlines.
February 2023
Length: 8 Weeks
Program Dates: 2/8/23 – 4/5/23
Cost: $1,750
Application Deadline: January 30
Apply Now
March 2023
Length: 8 Weeks
Program Dates: 3/8/23 – 5/3/23
Cost: $1,750
Application Deadline: February 27
Apply Now
April 2023
Length: 8 Weeks
Program Dates: 4/12/23 – 6/7/23
Cost: $1,750
Application Deadline: April 3
Apply Now
Strategy Execution is part of the Leadership and Management and Strategy Learning Tracks. If you're interested in developing deeper insights and expertise, you can choose to complete three leadership and management or three strategy courses within 18 months to earn a Certificate of Specialization.
Syllabus
Strategy Execution features adaptations of award-winning, best-selling Harvard Business School case studies, as well as opportunities to engage with peers in team discussions. Participants will explore common challenges that prevent or derail execution and learn how to design systems and structures that meet their organization's strategic objectives.
You'll also benefit from the insights of industry leaders and expert faculty at Harvard Business School, including Susanna Gallani, Assistant Professor of Business Administration, and Eugene Soltes, Professor of Business Administration. Their research findings and perspectives will complement Professor Simons' teachings on incentive design and risk management, respectively.
Leaders interviewed:
Meghna Modi, Managing Director at Go Mobile
Denise Montgomery, Mary Kay Independent Sales Director
Tom Polen, CEO and President of Becton Dickinson
David Rodriguez, EVP and Global Chief Human Resources Officer at Marriott
Kasper Rorsted, CEO of adidas
Tom Siebel, Founder, Chairman, and CEO of C3.ai
Bruce Welty, CEO of Quiet Logistics
Learning requirements: In order to earn a Certificate of Completion, participants must thoughtfully complete all six modules and exercises therein (including a capstone activity which integrates and applies the concepts covered in the course) by stated deadlines.
Download Strategy Execution Syllabus
Modules
Case Studies
Takeaways
Key Exercises
Module 1: Managing the Tensions of Strategy Execution

ATH Technologies: Making the Numbers
C3.ai: Driven to Succeed

Understand the various tensions managers face as they implement strategy
Implement a framework for managing those tensions effectively

Analyze your organization's approach to managing common organizational tensions
Identify strengths and deltas in your organization's approach to executing strategy

Module 2: Aligning Job Design to Strategy

Go Mobile: Aligning District Managers and Store Teams

Optimize the design of key jobs and align them to strategy

Analyze a job using the Job Design Optimization Tool (JDOT)
Recommend a set of job design improvements

Module 3: Empowering Employees to Execute Strategy

Henkel: Building a Winning Culture

Apply techniques to spur high performance and creativity among employees
Create core values that inspire and guide employees through difficult decisions

Identify ways to dial up performance and increase innovation within your team
Evaluate the effectiveness of your organization's core values

Module 4: Measuring and Monitoring Performance

Citibank: Performance Measurement

Create performance measurement systems that account for all dimensions of strategy execution while conserving scarce time and attention

Analyze and improve your organization's approach to profit planning
Identify critical performance variables and develop goals, measures, and targets corresponding to them
Analyze a range of incentive types and identify the most useful ones for different contexts

Module 5: Identifying and Managing Risks

Westchester Distributing, Inc.
Quiet Logistics

Describe and identify common risks businesses face
Create systems for managing and mitigating them

Identify internal risk pressures using the Risk Exposure Calculator
Propose solutions for a new conduct boundary at your organization

Module 6: Balancing Innovation and Control

Continental Media Group: Business Highlights
Automation Consulting Services

Apply techniques to help your business innovate and adapt to change while maintaining clear focus and retaining necessary controls

Identify which opportunities your organization should and should not pursue
Propose a system you can use to focus organizational attention on emerging threats and uncertainties
Apply course-wide knowledge by proposing a set of solutions to strategy execution challenges at a growing consulting firm
Capstone activity: develop an action plan for implementing the levers of control at your or another organization
The HBS Online Advantage
World-class faculty
Edge-of-your-seat online learning
Global peer collaboration and networking
Real-world, case-based learning
Harvard Business School Online offers a unique and highly engaging way to learn vital business concepts. Solve issues facing your organization by immersing yourself in the systems, structures, and insights other organizations across industries have leveraged to tackle strategy execution. You'll learn from leaders at Quiet Logistics, Marriott, adidas, C3.ai, Go Mobile, Becton Dickinson, Henkel, and Citibank.
Stories from Our Learners
HBS Online was an invaluable and essential education. The information provided, the quality of the presentation, and the high-level engagement among students surpassed my expectations.

The platform was engaging, innovative, and allowed me to interact with the material in a way I never expected from an online course.

A few weeks into the course, accounting terminology came alive as I realized why accounting is the language of business. I can now talk confidently with clients and understand the business aspect of their problems.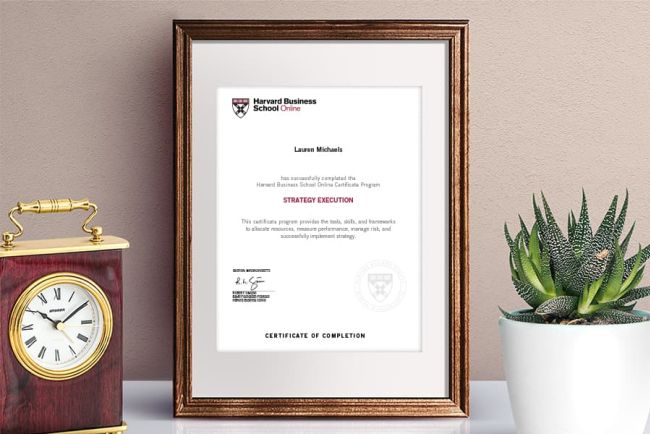 Earn Your Certificate
Enroll today in Harvard Business School Online's Strategy Execution course.
Apply Now