Organizational Leadership
$1,750
Next 7-week session starts October 25th
Elevate your leadership skills to take your organization to the next level.
Self-Paced
with regular deadlines
Who Will Benefit
Prepare for the next phase of your leadership journey, whether you're expanding your overall scope of responsibilities or taking over a larger department or organization.
I'm now more mindful of how my colleagues are experiencing me, and less averse to having difficult conversations.

Juliana Casale
Head of Marketing at Crazy Egg
Learn to lead at scale and mobilize your employees as you transition your business from a startup into a growth-stage company.
HBS Online courses are excellent for anyone who wishes to learn more about a particular subject area or further develop their career.

Corina Cristea Lavoie
Corporate Services Manager at Debevoise & Plimpton LLP
If you've completed
Leadership Principles
, this course will help you expand your leadership toolkit and prepare you to run a division, department, or organization.
"I found the content of the course to be extremely informative and applicable to the real challenges of being a leader. I loved the frameworks and the case study model of the course, and I thought the course was very manageable on top of a full-time job."

Abby Katz
Senior Marketing Manager at Mavrck
What You Earn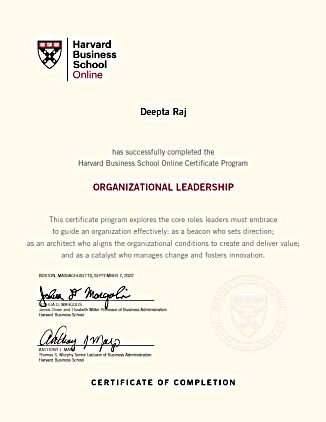 Certificate of Completion
Boost your resume with a Certificate of Completion from HBS Online
Earn by: completing this course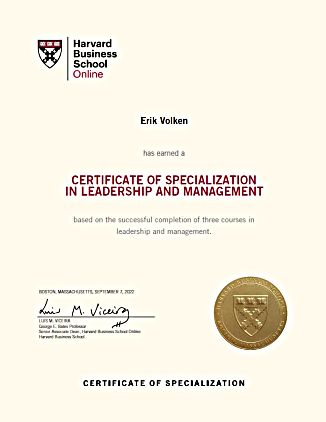 Certificate of Specialization
Prove your mastery of leadership and management
Earn by: completing any three courses within this subject area to earn a Certificate of Specialization
Syllabus
7 Modules, 45-50 Hours
Module 1
Leading at Scale and Scope
Understand the key imperatives of transitioning to a new organizational leadership role, including common dangers to avoid.
Concepts

Capital "L" Leadership

Transitioning to a New Role

Featured Exercises

Learning Path Tool assessment

Time allocation exercise
Module 2
Leader as Beacon: Understanding the Context and Setting Direction
Develop a direction for your division, unit, or organization, informed by the external context in which your organization operates.
Concepts

Contextual Intelligence

Developing Contextual Intelligence

Direction

Featured Exercises

Identify key contextual factors shaping your organization
Module 3
Leader as Beacon: Communicating Direction
Use vision, purpose, strategy, and identity to craft a statement of direction and apply techniques to communicate that direction to every level of the organization.
Concepts

Setting Direction

Communicating Direction

Types of Communication

Featured Exercises

Video upload: Record yourself communicating direction and evaluate the effectiveness of your and your peers' communication techniques
Module 4
Leader as Architect: Designing to Deliver Value
Understand the critical design choices to align the people, systems and structure, and culture in your division, unit, or organization to deliver value.
Concepts

Introduction to the Architect Model

Creating Value as an Organization

Organizational Design Levers: The Conditions

Organizational Design Levers: The Components

Featured Exercises

Generate a three-year value-creation plan

Align your organizational architecture to your three-year value-creation plan
Identify a performance or opportunity gap within your division, unit, or organization and develop an action plan to address it. Identify personal leadership development opportunities using feedback from the Learning Path Tool assessment.
Concepts

Introduction to Project Week

Bank Leumi Case Study

Organizational Challenge Conclusion

Featured Exercises

Perform a root cause analysis

Networking activity (optional): Share your action plan with a classmate and receive feedback

Reflect on your Learning Path Tool assessment
Module 6
Leader as Catalyst of Change
Diagnose the need for organizational change in response to external shifts or internal challenges, and utilize the CHANGE model to implement organizational change successfully.
Concepts

Catalyst of Change

Conceptualize and Hear

Agenda and Nexus

Guide & Govern and Engage & Execute

Featured Exercises

Reflect on key change initiatives within your organization and analyze their effectiveness using the CHANGE model
Module 7
Leader as Catalyst of Innovation
Describe the steps for driving innovation within established organizations and explain how to transform your organization's culture into one of innovation.
Concepts

Catalyst of Innovation

Creating a Culture of Innovation

Featured Exercises

Explore the value of learning from mistakes to develop a culture of innovation

Reflect on what you've learned about leading organizations—and yourself—throughout the course
Bonus Module 8
Leading Self at Scale and Scope
Examine the personal and organizational challenges of leading through inflection points and adversity and assess your capacity to rise to new leadership responsibilities.

Module 8—Leading Self at Scale and Scope—is a bonus module and not required for course completion. It will be available for participants as optional content at the end of the course.
Concepts

Leading During Crisis

Bethany Quam

Johan Lundgren

Mia Mends

Leading Self

Featured Exercises

Reflect on your experiences facing uncertainty and adversity as a leader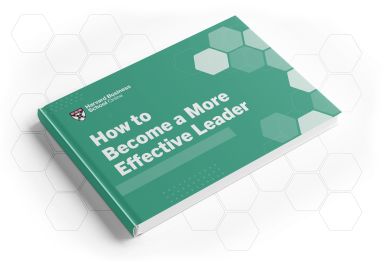 Learn about the difference between leadership and management, uncover the qualities and skills that characterize an effective leader, gain an understanding of common leadership styles, and explore how you can unleash the potential in yourself and others.
Our Difference
Organizational Leadership equips experienced team leaders and aspiring executives with the skills, strategies, and tools to rise to expanded leadership responsibilities and guide their organizations effectively.
Learner Stories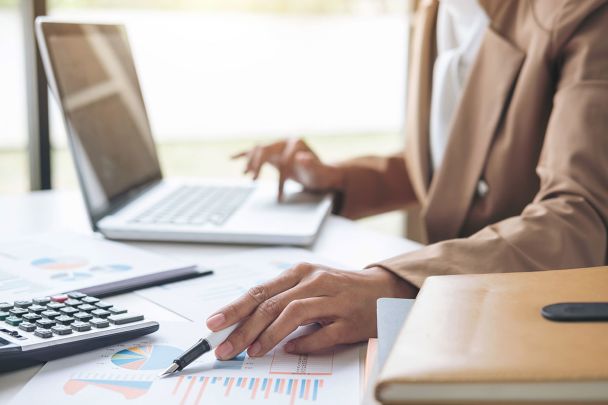 84%
Participating in the student discussions and answering cold calls was empowering. It ignited a drive within me to learn and absorb as much as I could.

Leslie Pico
A small business owner and tech entrepreneur from Arizona
Programming & System Analysis, Biomedical Engineering, Estrella Mountain Community College
Small Business Administration, Northern Arizona University
Getting the perspective of a problem from various departments brought more solutions to the forefront that could be explored.

Shovna Panigrahi
Vice President of Asset Management at RMZ Corp
* Source: 2022 surveys and course data
All FAQs
Organizational Leadership FAQs
Participants in Organizational Leadership are eligible for a Certificate of Completion from Harvard Business School Online.
Participants are expected to fully complete all coursework in a thoughtful and timely manner. This will mean meeting each week's course module deadlines and fully answering questions posed therein. This helps ensure participants proceed through the course at a similar pace and can take full advantage of social learning opportunities. In addition to module and assignment completion, we expect you to offer feedback on others' reflections and contribute to conversations on the platform. Participants who fail to complete the course requirements will not receive a certificate and will not be eligible to retake the course.
More detailed information on course requirements will be communicated at the start of the course. No grades are assigned for Organizational Leadership. Participants will either be evaluated as complete or not complete.
The Learning Path Tool (LPT) is a 360-degree assessment developed at Harvard Business School to provide leaders with insights into key areas of competence essential for effective leadership. At the beginning of Organizational Leadership, you'll be asked to complete a self-assessment and solicit feedback from colleagues, such as direct reports, clients, or managers, for the assessment. Upon successful completion of the LPT—which requires obtaining ratings from at least two colleagues (and ideally at least six)—you will receive a detailed report that provides insight into your leadership and how others experience you.
You will have access to the materials in every prior module as you progress through the program. Access to course materials and the course platform ends 60 days after the final deadline in the program.
At the end of each course module, you will be able to download a PDF summary highlighting key concepts used throughout the course. At the end of the program, you will receive a PDF compilation of all of the module summary documents. We hope the module summary documents will serve as a helpful resource after you finish the course.
Harvard Business School Online

Certificate in Organizational Leadership

[Cohort Start Month and Year]
List your certificate on your LinkedIn profile under "Education" with the language from the Credential Verification page:
School: Harvard Business School Online
Dates Attended: [The year you participated in the program]
Degree: Other; Certificate in Organizational Leadership
Field of Study: Leave blank
Grade: "Complete"
Activities and Societies: Leave blank
For the program description on LinkedIn, please use the following:
Organizational Leadership is a 7-week, 40-hour online certificate program from Harvard Business School. Organizational Leadership equips experienced team leaders with the skills, strategies, and tools to set and communicate direction, influence through other managers, generate organizational alignment, drive innovation, and engineer change.
The program was developed by leading Harvard Business School faculty and is delivered in an active learning environment based on the HBS signature case-based learning model.