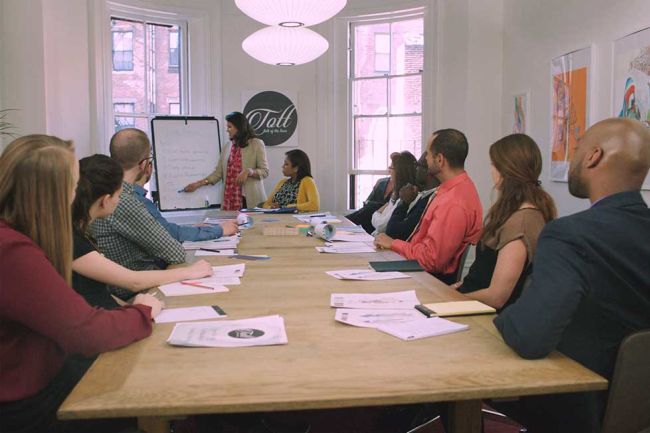 Elevate Your Managerial Approach
Management Essentials, formerly known as Becoming a Better Manager, provides the real-world tools and strategies needed to excel in decision-making, implementation, organizational learning, and change management.
Apply Now
What You'll Learn
Design, direct, and shape organizational processes to your advantage
Influence the context and environment in which decisions get made
Implement strategies, plans, and projects on time, on budget, and at the highest quality
Spearhead learning initiatives that enable your organization to improve and innovate
Manage and lead change in organizations of varying sizes
About the Professors

Joseph Fuller is a Professor of Management Practice in General Management and co-leads the Harvard Business School initiative Managing the Future of Work. He was a founder and first employee of the global consulting firm Monitor Group, now Monitor-Deloitte. He is currently researching the evolution of the roles of CEOs and the C-suite in public companies.

David Garvin was the C. Roland Christensen Professor of Business Administration and an influential and prolific scholar whose distinguished career at Harvard Business School spanned nearly four decades. His research focused on business and management processes, the principles of organizational learning, and the design and leadership of large, complex organizations. He authored or co-authored 10 books and 37 articles over the course of his career.
Who Will Benefit
Newly Appointed Managers
Whether you're managing people, products, or projects, gain the skills you need to succeed from day one.
Seasoned Managers
Elevate your management skills by applying insights from Harvard Business School faculty and expert practitioners.
Aspiring Managers
Start preparing for a future managerial role through access to best-in-class tools and frameworks.
Program Structure
Management Essentials consists of 35 to 45 hours of material delivered over an eight-week period. You can complete the coursework on your own time while meeting regular deadlines. Three group exercises, including two decision-making simulations and a capstone assignment, are required for course completion.
March 2023
Length: 8 Weeks
Program Dates: 3/15/23 – 5/10/23
Cost: $1,750
Application Deadline: March 6
Apply Now
May 2023
Length: 8 Weeks
Program Dates: 5/17/23 – 7/12/23
Cost: $1,750
Application Deadline: May 8
Apply Now
July 2023
Length: 8 Weeks
Program Dates: 7/12/23 – 9/6/23
Cost: $1,750
Application Deadline: July 3
Apply Now
Management Essentials is part of the Leadership and Management Learning Track. If you're interested in developing deeper insights and expertise, you can choose to complete three leadership and management courses within 18 months to earn a Certificate of Specialization.
Syllabus
Management Essentials provides participants with key tools and techniques to become more effective managers and get things done. The course takes a process approach to managerial work and teaches managers how to artfully shape decision-making, implementation, learning and improvement, and change processes within their organizations.
Learning requirements: In order to earn a Certificate of Completion, participants must thoughtfully complete all 4 modules by stated deadlines.
Modules
Case Studies
Takeaways
Key Exercises
Module 1: A Process Perspective on Management

Mount Everest - 1996
Columbia's Final Mission
Leading Change at Fuerte Construction

Differentiate between the myths and realities of management
Adopt a process perspective towards managerial work
Leverage processes to your advantage

Small Group Process Analysis
Peer Feedback Exercise

Module 2: Shaping the Decision-Making Process

The Bay of Pigs
Trouble at Talk of the Town Designs
The Cuban Missile Crisis

Analyze the decision-making process and diagnose potential pitfalls
Identify the key drivers that enhance your chance at making a good decision
Utilize a range of different managerial levers to improve individual and group decision-making

Small Group Decision-Making Simulation
1-on-1 Decision-Making Simulation
Peer Feedback Exercise

Module 3: Implementing for the Present and Learning for the Future

Healthcare.gov: The Crash and the Fix
The 2010 Chilean Mining Rescue
The U.S. Army's After-Action Reviews

Detect and diagnose common causes of poor implementation of plans and projects
Identify the stages of implementation and what you must do in each to get the job done
Recognize the role that learning plays in organizational performance, improvement, and innovation

Giving Feedback Exercise
Giving and Receiving Advice Exercise
Delegation Exercise
Conduct Your Own Review
Peer Feedback Exercise

Module 4: Managing and Leading Change

Scaling Up N12 Technologies
Growing Pains at Stroz Friedberg
Paul Levy: Turning Around the Beth Israel Deaconess Medical Center (BIDMC)

Recognize the drivers of organizational change
Identify the common stages of most successful change processes
Manage change in growing businesses
Lead change in large organizations

Capstone Assignment: Small Group Consulting Simulation
Peer Feedback Exercise
The HBS Online Advantage
World-class faculty
Edge-of-your-seat online learning
Global peer collaboration and networking
Real-world, case-based learning
Harvard Business School Online offers a unique and highly engaging way to learn vital business concepts. Immerse yourself in real challenges faced by seasoned managers across a variety of industries, including Kevin Sharer, former CEO of Amgen Pharmaceuticals; Meghan Joyce, regional manager for Uber's East Coast Operations; and Mina Hsiang, healthcare lead for the United States Digital Service. Step into their shoes and wrestle with the same issues they faced, while engaging with fellow learners from around the world.
Stories from Our Learners
I thought I knew the subject relatively well and it would be a refresher. I was in for a surprise. After the first module, I realized that I did many things wrong. The most chilling thought was about missed opportunities. The course is giving me a good structure to understand organizational behavior.

This program debunked many myths about management. I highly recommend anyone with or without managerial experience take this course. It is much more than just about managing the people.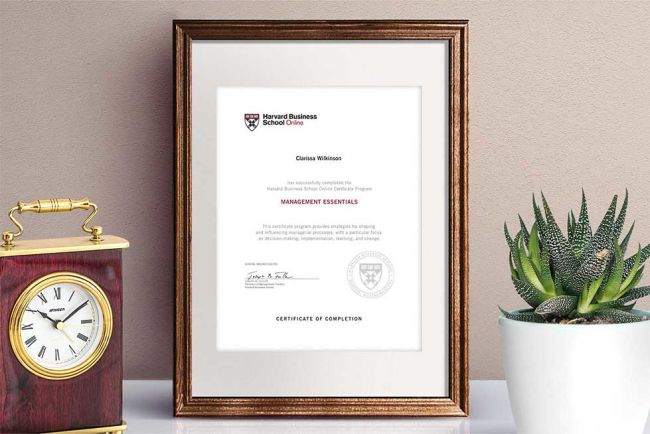 Earn Your Certificate
Enroll today in Harvard Business School Online's Management Essentials course.
Apply Now