Leadership, Ethics, and Corporate Accountability
$1,750
Next 6-week session starts January 24th
Develop a toolkit for making tough leadership decisions.
Self-Paced
with regular deadlines
Who Will Benefit
Determine and deliver on your responsibilities to investors, customers, employees, and society.
"Don't lose hope. These courses helped change my career trajectory, and I hope they do wonders in your life as well. In the end, it'll be all worth it."

Riya Dashoriya
Engineering Manager at Quizlet at Infosys
Prepare for, or acclimate to, new leadership roles in which you'll be faced with making difficult decisions.
"For me, that connection from textbook to reality made the courses memorable, enjoyable, and interesting. Case studies were absolutely my favorite part of the program."

Kyle Rosenmeyer
Boise State University Graduate, Engineer, and Photographer
Learn how to navigate new leadership challenges as you build or scale your venture.
"I would advise that you ask for help or opinions on any topic that appears murky to you."

Fabian Ibekwe
Founder, Angelus Consulting and Research Limited at Infosys
What You Earn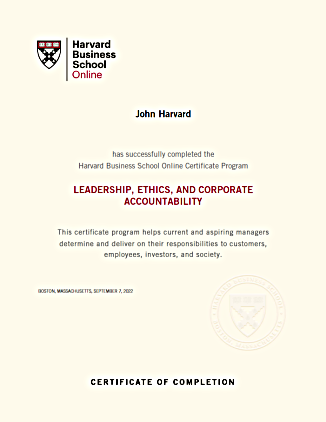 Certificate of Completion
Boost your resume with a Certificate of Completion from HBS Online
Earn by: completing this course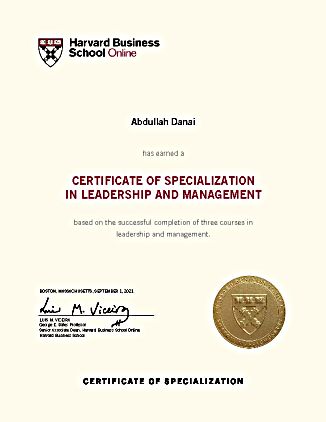 Certificate of Specialization
Prove your mastery of leadership and management and business in society
Earn by: completing any three courses within either subject area to earn a Certificate of Specialization
Syllabus
5 Modules, 40-50 Hours
Module 1 - 2 Weeks
Delivering on Responsibilities to Customers
Understand what "gray-area situations" are and the reflective leadership model to start assessing difficult circumstances and improve your decision-making skills.
Concepts

Course Introduction and Overview of the Reflective Leadership Model

The Complexities of Business-Customer Relationships

Applying the Reflective Leadership Questions

Ethical Practices with Business Customers

Featured Exercises

Examine gray-area decisions related to customers

Apply the reflective leadership model to work through a crisis

Differentiate between customers, clients, and counterparties
Module 2 - 1 Week
Ensuring Fairness for Employees
Learn how to make a fair workplace culture at scale that supports diversity, equity, and inclusion, and analyze how personal beliefs might influence decision-making. Develop techniques to combat bias.
Concepts

Employee Considerations

An Analysis Using the Reflective Leadership Framework

Examining Employee Responsibilities at Scale: What Can We Learn from Google?

Review and Self-Reflection

Featured Exercises

Analyze your biases and reflect on past decisions to help identify problem areas

Consider how employee rights factor into firing decisions

Identify three types of fairness in employee-employer relationships
Module 3 - 1 Week
Investor Responsibilities and Fiduciary Duties
Explore due diligence and how fiduciary duties influence leadership responsibilities. Unpack the tensions leaders face when balancing value creation for investors with accountability to other constituencies.
Concepts

Theranos: Where Does the Responsibility Lie?

Power and Money at TXU Corporation

From TXU to Energy Future Holdings

Review and Self-Reflection

Featured Exercises

Evaluate long-versus short-term responsibilities through the lens of different stakeholder interests

Reflect on the responsibilities of founders, CEOs, and boards
Module 4 - 1 Week
The Social Responsibility of Business
Understand different perspectives on the role of business in society and why an organizational approach focusing on environmental, social, and governance (ESG) issues can—and should—be financially viable.
Concepts

The Changing Role of Business in Society

Engaging with Harms in the Garment Industry

SA Taxi: One Firm's Response to Harms

Long-Term Value Through Commitment to Society

Featured Exercises

Analyze an organization's goals by reflecting on your company's purpose

Identify different types of harms most common in your industry
Module 5 - 1 Week
Reflective Leadership in a Digital World
Discover how the scale, scope, and speed of business in Big Tech affects leadership responsibilities and integrate your knowledge of the reflective leadership model through a critical analysis of Facebook.
Concepts

Leadership Changes in the Digital Age

Awareness: Considerations and Responsibilities at Facebook

Judgment: What Should Facebook Do?

How Should Facebook Do It?

Featured Exercises

Develop action plans to address specific company problems

Reflect on past mistakes and issues in tech to identify improvement areas

Identify your strengths and weaknesses when dealing with ethical decision-making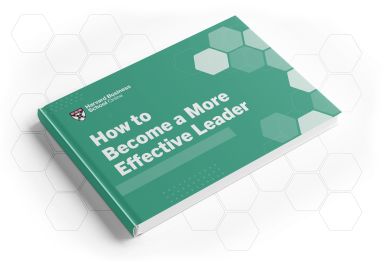 Learn about the difference between leadership and management, uncover the qualities and skills that characterize an effective leader, gain an understanding of common leadership styles, and explore how you can unleash the potential in yourself and others.
Our Difference
Leadership, Ethics, and Corporate Accountability helps current and aspiring managers determine and deliver on their responsibilities to customers, employees, investors, and society by drawing on economic, legal, and ethical considerations.
Learner Stories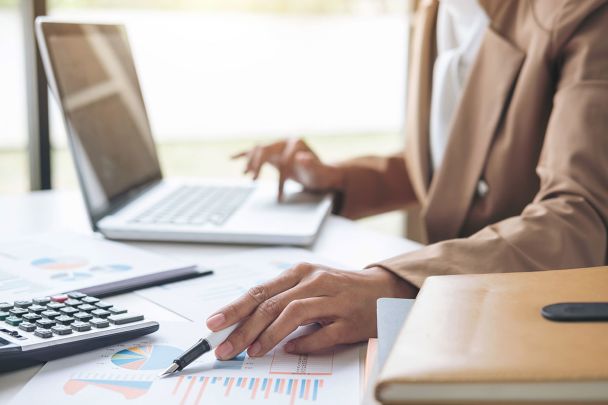 91%
Participating in the student discussions and answering cold calls was empowering. It ignited a drive within me to learn and absorb as much as I could.

Leslie Pico
A small business owner and tech entrepreneur from Arizona
Programming & System Analysis, Biomedical Engineering, Estrella Mountain Community College
Small Business Administration, Northern Arizona University
As always, the case studies are eye-opening. The content is superb, and the presentation of the case is superb as well.

Richard Pitts
VP and Senior Medical Director at St. Joseph Heritage Health
* Source: 2022 surveys and course data
All FAQs
Leadership, Ethics, and Corporate Accountability FAQs
Participants in Leadership, Ethics, and Corporate Accountability are eligible for a Certificate of Completion from Harvard Business School Online.
Participants are expected to fully complete all coursework in a thoughtful and timely manner. This will mean meeting each week's course module deadlines and fully answering questions posed therein. This helps ensure your cohort proceeds through the course at a similar pace and can take full advantage of social learning opportunities. In addition to module and assignment completion, we expect participation in the social learning elements of the course by offering feedback on others' reflections and contributing to conversations on the platform. Participants who fail to complete the course requirements will not receive a certificate and will not be eligible to retake the course.
More detailed information on course requirements will be communicated at the start of the course. No grades are assigned for Leadership, Ethics, and Corporate Accountability. Participants will either be evaluated as complete or not complete.
You will have access to the materials in every prior module as you progress through the program. Access to course materials and the course platform ends 60 days after the final program deadline.
At the end of each course module, you'll be able to download a PDF summary highlighting key concepts introduced in the course. At the end of the program, you'll receive a PDF compilation of all the module summary documents. We hope these serve as a helpful resource after you finish the course.
Harvard Business School Online
Certificate in Leadership, Ethics, and Corporate Accountability
[Cohort Start Month and Year]
List your certificate on your LinkedIn profile under "Education" with the language from the Credential Verification page:
School: Harvard Business School Online
Dates Attended: [The year you participated in the program]
Degree: Other; Certificate in Leadership, Ethics, and Corporate Accountability
Field of Study: Leave blank
Grade: Complete
Activities and Societies: Leave blank
For the program description on LinkedIn, please use the following:
Leadership, Ethics, and Corporate Accountability is a 6-week, 35-hour online certificate program from Harvard Business School. It helps current and aspiring managers determine and deliver on their responsibilities to customers, employees, investors, and society, drawing on economic, legal, and ethical considerations.