Launching Tech Ventures
$1,750
Next 5-week session starts November 8th
Build a viable, valuable tech venture that can profitably scale.
Self-Paced
with regular deadlines
Who Will Benefit
Develop proven frameworks and tools to execute a high-quality, profitable business model and prepare your startup for funding and scaling.
The academic rigor was thrilling. What made it extra special was the people I met through the experience. That community stays with me every day.
Carla Dirlikov Canales
Opera Singer
Equip yourself with the skills to join an early- or growth-stage startup in a product management, business development, sales, or marketing role.
"For me, that connection from textbook to reality made the courses memorable, enjoyable, and interesting. Case studies were absolutely my favorite part of the program."

Kyle Rosenmeyer
Boise State University Graduate, Engineer, and Photographer
Determine which startups to invest in by understanding the key metrics that dictate whether a venture has achieved product-market fit and is ready for scaling.
As always, the case studies are eye-opening. The content is superb, and the presentation of the case is superb as well.

Richard Pitts
VP and Senior Medical Director at St. Joseph Heritage Health
What You Earn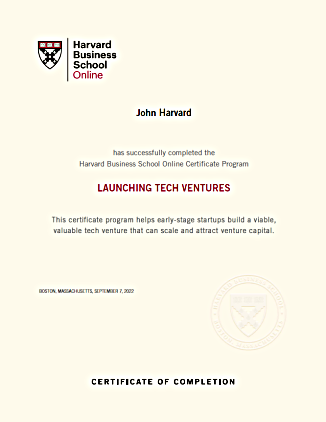 Certificate of Completion
Boost your resume with a Certificate of Completion from HBS Online
Earn by: completing this course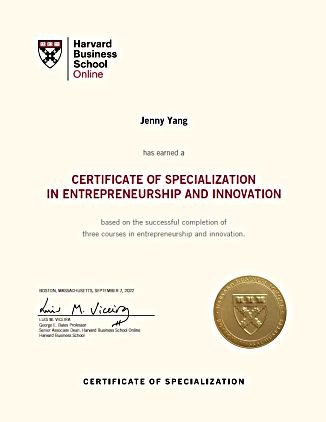 Certificate of Specialization
Prove your mastery of entrepreneurship and innovation
Earn by: completing any three courses within this subject area to earn a Certificate of Specialization
Syllabus
5 Modules, 30-35 Hours
Module 1
Designing the Tech Startup Business Model
Evaluate the quality of startup business models and understand the importance of aligning models' different components.
Concepts

Welcome to Launching Tech Ventures

Business Model Exploration

Business Model Evaluation

Business Model Alignment

Featured Exercises

Perform a business model quality assessment

Characterize the different types of business models that exist in Startupland
Module 2
Experiments to Achieve Product-Market Fit
Explore the discovery phase of tech startup development that occurs before achieving product-market fit. Assess different go-to-market strategies and determine which is best for your venture.
Concepts

Experiments that Lead to Product-Market Fit

Profit Formula Implications

Squire's Unit Economics

Experimentation at Ovia Health

Featured Exercises

Practice the key steps of the lean startup methodology

Identify and calculate the key metrics for determining if you've achieved product-market fit
Module 3
Venture Capital and Startup Financing
Learn how venture capital firms and the fundraising process operate and how to approach a VC and negotiate and structure an investment.
Concepts

The Venture Capital Industry

The Financing Process

Term Sheets and Exits

Featured Exercises

Determine whether VC funding is right for your startup

Assess your network's strength and brainstorm ways to get connected to a VC

Quiz yourself on the key steps of the financing process

Practice interpreting the provisions on a term sheet
Module 4
Scaling Post Product-Market Fit
Articulate how the competitive context can influence early startup decisions and determine when to apply and leverage a product-led growth strategy.
Concepts

Khatabook

Retaining the Users You Acquire

Scaling Decisions

Featured Exercises

Describe the marketing funnel

Apply startup playbooks under different scenarios and market conditions
Module 5
Ecosystem and Ethics
Understand the unconscious and systemic biases in the startup ecosystem and assess a business model's impact on society​.
Concepts

Gender Bias in Startupland

Racial Bias in Startupland

Ethical Considerations in Startupland

Featured Exercises

Classify VC questions and craft responses to minimize the effect of gender biases

Create an impact statement summarizing how you hope to impact the startup ecosystem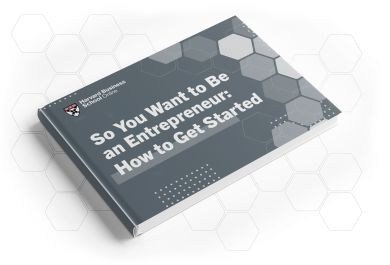 In this guide, you'll learn about what characterizes a successful entrepreneur, how to decide if entrepreneurship is right for you, and what skills you need to thrive.
Our Difference
Launching Tech Ventures helps early-stage tech startups overcome management challenges across all aspects of their business model.
Immerse yourself in real-world, case-based examples brought to life by industry-leading experts from companies like Chief, Codecademy, Ovia Health, Khatabook, Plastiq, and Flybridge Capital.
Immerse yourself in real-world, case-based examples brought to life by industry-leading experts from companies like Chief, Codecademy, Ovia Health, Khatabook, Plastiq, and Flybridge Capital.
Learner Stories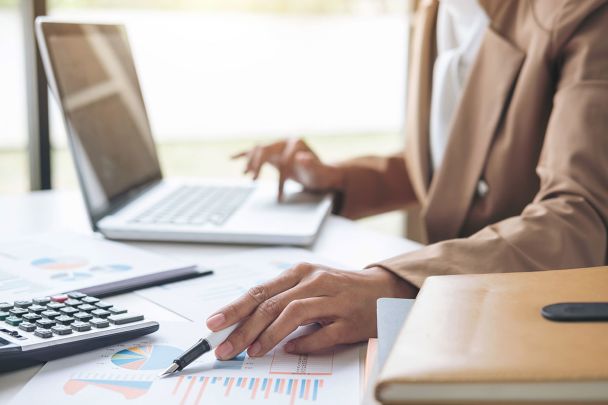 91%
Participating in the student discussions and answering cold calls was empowering. It ignited a drive within me to learn and absorb as much as I could.

Leslie Pico
A small business owner and tech entrepreneur from Arizona
Programming & System Analysis, Biomedical Engineering, Estrella Mountain Community College
Small Business Administration, Northern Arizona University
The virtual, interactive platform was unique. I was continuously engaged with the course's material and learned a lot from my peers.

Kaushal Khodifad
Senior Systems Engineer at Infosys
* Source: 2022 surveys and course data
All FAQs
Launching Tech Ventures FAQs
Participants in Launching Tech Ventures are eligible for a Certificate of Completion from Harvard Business School Online.
Participants are expected to fully complete all coursework in a thoughtful and timely manner. This will mean meeting each week's course module deadlines and fully answering questions posed therein. This helps ensure your cohort proceeds through the course at a similar pace and can take full advantage of social learning opportunities. In addition to module assignment completion, we expect participation in the social learning elements of the course by offering feedback on others' reflections and contributing to conversations on the platform. Participants who fail to complete the course requirements will not receive a certificate and will not be eligible to retake the course.
More detailed information on course requirements will be communicated at the start of the course. No grades are assigned for Launching Tech Ventures. Participants will either be evaluated as complete or not complete.
You will have access to the materials in every prior module as you progress through the program. Access to course materials and the course platform ends 60 days after the final deadline in the program.
Once you've earned your Certificate of Completion, list it on your resume along with the date of completion:
Harvard Business School Online
Certificate of Launching Tech Ventures
[Cohort Start Month and Year]
List your certificate on your LinkedIn profile under "Education" with the language from the Credential Verification page:
School: Harvard Business School Online
Dates Attended: [The year you participated in the program]
Degree: Other; Certificate in Launching Tech Ventures
Field of Study: Leave blank
Grade: Complete
Activities and Societies: Leave blank
For the program description on LinkedIn, please use the following:
Launching Tech Ventures is a 5-week, 30-hour online certificate program from Harvard Business School. Launching Tech Ventures helps early-stage startups overcome management challenges across all aspects of their business model. Whether you're a founder, startup employee, or investor, you'll learn what's needed to build a viable, valuable business that can scale and attract venture capital.
Entrepreneurship Essentials focuses on entrepreneurship in general and how to identify a startup idea, validate your business model and financially manage your company. Launching Tech Ventures focuses specifically on technology companies and the early strategic decisions that founders, joiners and VCs must make to find a viable business model that has product-market fit. The course covers business model assessment, using experiments to determine product-market fit, VC financing and ethical issues.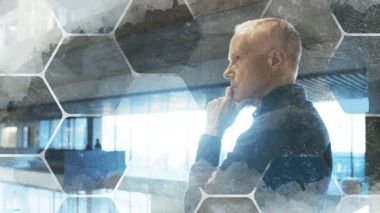 Entrepreneurship Essentials
Professor William Sahlman
Master a proven framework for building and financing new ventures, and make your entrepreneurial dreams a reality.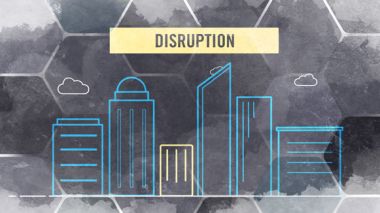 Disruptive Strategy
Professors Rory McDonald & Clayton Christensen
Strengthen your capacity to make innovation a reality; unlock your potential to create winning strategies.