Financial Analysis and Valuation for Lawyers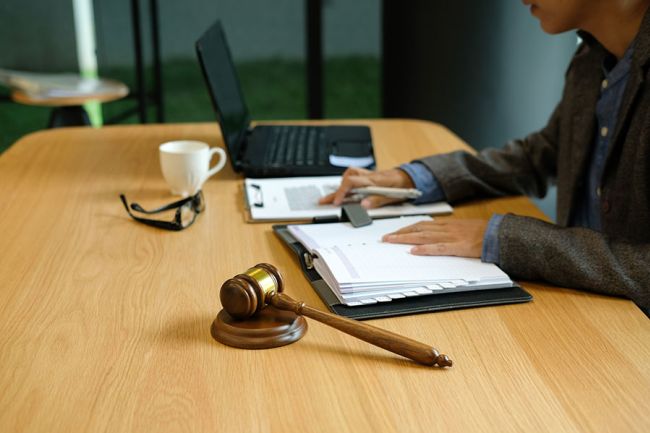 Financial Analysis and Valuation for Lawyers
Use Finance to Win Big for Your Clients
Taught by Harvard Law School faculty, Financial Analysis and Valuation for Lawyers is a Harvard Online course designed to help you navigate your organization or client's financial goals while increasing profitability and minimizing risks.

Brought to you by:
Apply Now
What You'll Learn
The course will be delivered via HBS Online's course platform and immerse learners in real-world examples from experts at industry-leading organizations. By the end of the course, participants will be able to:
Gain a fundamental understanding of financial statements, using methodologies to extract and analyze the numbers
Learn to translate your organization or client's financial goals into practical legal solutions
Recognize the variances in valuation and provide finance-driven insights
Discover how to approach dispute and advocacy sessions, determining how and when to bring in financial experts to strengthen your case
Hone your judgment skills to use ethical reasoning when the financial answer is not clear
About the Professors
John Coates is the John F. Cogan, Jr. Professor of Law and Economics at Harvard Law School, where he also serves as the Vice Dean for Finance and Strategic Initiatives, and Research Director of the Center on the Legal Profession. Before joining Harvard, he was a partner at Wachtell, Lipton, Rosen & Katz, specializing in financial institutions and M&A. He has testified before Congress and provided consulting services to the U.S. Department of Justice (DOJ), the U.S. Department of Treasury, the New York Stock Exchange, and participants in the financial markets, including hedge funds, investment banks, and private equity funds. He served as an independent consultant for the Securities and Exchange Commission in one of the first "Fair Fund" distributions and is currently serving as a DOJ-appointed independent monitor for one of the Global Systemically Important Financial Institutions.
Bala G. Dharan is the Robert B. and Candice J. Haas Visiting Professor and Senior Lecturer at Harvard Law School, and Visiting Professor of Accounting at MIT Sloan School of Management. He's also a Managing Director at Berkeley Research Group, LLC, where he provides business and litigation services consulting. Dr. Dharan has extensive consulting experience in financial accounting and disclosures issues, finance, valuation, investment analysis, corporate governance, and forensic analysis and investigation.
Who Will Benefit
Legal Professionals
Understand financial statements to expand your legal framework and supplement your legal education.
Corporate Lawyers

Understand how to identify and analyze the impact of valuation disparities creating the highest value for your organization.
Litigators
Hone your financial and accounting skills to make the strongest argument for your clients.
Program Structure
Financial Analysis and Valuation for Lawyers consists of approximately 20 hours of material delivered over a six-week period. You can complete the coursework on your own time while meeting regular deadlines.
January 2022
Length: 6 Weeks
Program Dates: 1/19/22 – 3/2/22
Cost: $1,600
Applications Closed
Syllabus
Financial Analysis and Valuation for Lawyers is designed to help you navigate your organization or client's financial goals while increasing profitability and minimizing risks. Through examples of business valuations and presentations from real-world practitioners, you'll learn how to interpret financial data, make a business case, and know what types of experts can help support your argument.
Learning requirements: In order to earn a Certificate of Course Completion from Harvard Online, participants must thoughtfully complete all 6 modules by stated deadlines.
Modules
Case Studies
Takeaways
Key Exercises
Module 1: Understanding Financial Statements

Accounting is not equivalent to economics
Financial statements have a standard structure and consistent elements
Earnings (net income) and cash flows can diverge

Finding key financial statements
Differentiating between assets and expenses
Revenue and Expense recognition

Module 2: Analyzing Financial Statements

Flowers Foods
Dave's Killer Bread

Ratios are a way to analyze, standardize, and compare many things
Key ratios for financial statement analysis are P-to-B, PE, and gross margin

Calculating valuation and profitability ratios
Matching company financials to industries with ratios

Module 3: Valuation Using Comps

Market prices are a way to value public companies
Ratios from comparable public companies can substitute for market prices

Calculating enterprise value
Calculating enterprise value to EBITDA ratio

Module 4: Discounting and Cost of Capital

Simple formulas relate FV to PV
A good business is a growing perpetuity
The cost of capital ("K") is the rate to turn FV into PV
K can be estimated with two statistics ("beta" + the "market risk premium") + the risk-free rate

Simple discounting exercises
Using PV to analyze a legal doctrine
Choosing among payment options for settlement of a lawsuit
Valuing a law degree
Valuing Flowers Foods with a DCF model, including debt, using assumed forecasts

Module 5: Forecasting and Discounted Cash Flow Modeling

FCFs and not income are used to model enterprise value
Ratios can help create + test FCF forecasts
Usually we forecast 3-10 years, then end with a "terminal" year ("TY"), including terminal growth ("g")
Common sense can help estimate" g"
Lawyers can ask 20+ questions to probe and test the reliability of forecasts used to value companies

Calculating EBIT
Finding and calculating inputs to a set of DCF forecasts
Estimating and using growth forecasts
Completing a set of DCF forecasts for Flowers Foods

Module 6: Valuation Disputes and Advocacy

BP Oil Spill
Adams v. Adams
Matrix v. Rawlings
Disney v. Children's Television
Golden Telecom

Accounting, finance, and valuation are key elements in many legal disputes
Present value, discounting, the perpetuity formula, and the DCF model are all used by lawyers in various ways in real lawsuits
Accounting, finance, and valuation, like law, involve constrained judgment

Estimating profit and compensation from the BP Oil Spill Fund for a company harmed by the spill
Valuing the hedge fund partnership interest of a husband involved in a divorce
Calculating harm from a breach of contract
Calculating the benefit from the misappropriation of intellectual property
Deriving the fair value of a company using the DCF model and given inputs
The HBS Online Advantage
World-class faculty
Edge-of-your-seat online learning
Global peer collaboration and networking
Real-world, case-based learning
Harvard Business School Online offers a unique and highly engaging way to learn vital business concepts. Immerse yourself in real challenges faced by business leaders across a variety of industries. You'll wrestle with the same issues and imperfect information, while problem-solving and interacting with fellow learners from around the world.
Stories from Our Learners
I thoroughly enjoyed the entire content on the course. It was extremely simplified, engaging and to the topic. The course faculty was outstanding, they made understanding the financial concepts much simpler. In fact, even the video segments were very informative. Last but not the least, the case teaching method was great. This method allows you to test the applicability of the concepts studied and boosts ones confidence.

This course really sets the ground for a young professional with little/no financial experience/knowledge who wants to pursue such a career (even as a legal expert). When I applied, I was not, even closely, aware of how fascinating the financial sector is; what really contributed in realizing it, was the real - life examples and, especially module 6, during which I was exposed to real - life cases, matching the dots between theory and practical examples. Whoever studies this course gets a valuable knowledge of what financial analysis is, and, if they are lucky enough to practice it through their jobs, they will realize the actual usefulness of the information provided through the overall course.

I work in M&A, venture capital, capital markets and special situations. All of these areas cover numbers at some point, so I strongly recommend my colleagues to take this course to understand the client's rationale and the numbers implicated.

Taking this course was a very enriching experience. I learned many things that will definitely contribute to my professional career, granting me more knowledge and confidence in relation to the topics we covered (generally speaking, financial analysis and valuation). Additionally, it was very interesting to confirm that valuation relates closely to the deals I generally participate in at the firm where I work.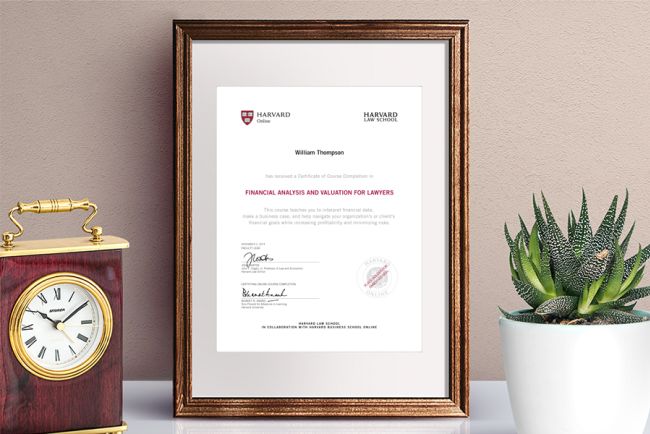 Earn Your Certificate
Enroll today in Harvard Online's Financial Analysis and Valuation for Lawyers course.
Apply Now