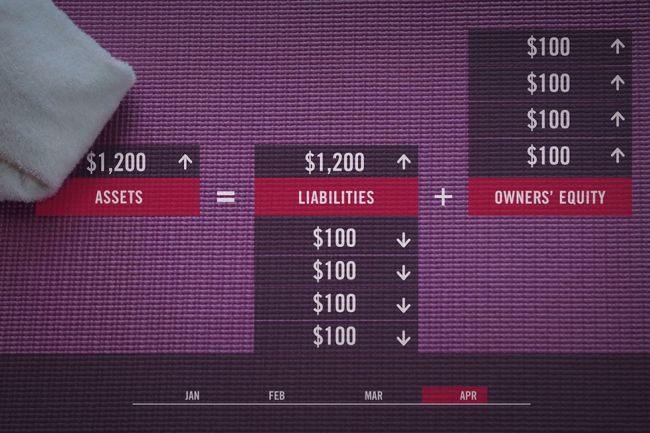 Discover What's Behind the Numbers in Financial Statements
Financial Accounting teaches key accounting concepts and principles to illuminate financial statements and unlock critical insights into business performance and potential. Explore how managers, Wall Street analysts, and entrepreneurs leverage accounting to drive strategic decision-making.
Apply Now
What You'll Learn
Discover how balance sheets, income statements, and cash flow statements are developed and how each interact
Evaluate the financial health of a business using financial statements
Understand GAAP and IFRS standards
Prepare and evaluate financial forecasts to make strategic decisions
Value a venture, project, or investment opportunity and perform a sensitivity analysis
About the Professor

V.G. Narayanan is the Thomas D. Casserly, Jr. Professor of Business Administration at Harvard Business School and chair of the MBA program's second-year elective curriculum. He has served as the course head for the first-year required accounting course for MBA students, Financial Reporting and Control, and chairs several executive education programs. His research in management accounting focuses on understanding how firms can use incentives and feedback to improve performance.
Who Will Benefit
College Students and
Recent Graduates
Learn the language of business through accounting as you gain the skills and knowledge to analyze financial statements.
Those Considering an MBA

Prepare for the MBA classroom with the program Harvard Business School offers to incoming students.
Mid-Career Professionals
Gain confidence in your ability to understand financial statements and communicate financial results.
Program Structure
Financial Accounting consists of approximately 60 hours of material delivered over an eight-week period. You can complete the coursework on your own time while meeting regular deadlines.
April 2023
Length: 8 Weeks
Program Dates: 4/19/23 - 6/14/23
Cost: $1,750
Application Deadline: April 10
Apply Now
June 2023
Length: 8 Weeks
Program Dates: 6/21/23 - 8/16/23
Cost: $1,750
Application Deadline: June 12
Apply Now
Financial Accounting is part of the Finance & Accounting Learning Track. If you're interested in developing deeper insights and expertise, you can choose to complete three finance & accounting courses within 18 months to earn a Certificate of Specialization.
This course is also part of our three-course Credential of Readiness (CORe) program—consisting of Business Analytics, Economics for Managers, and Financial Accounting—available for $2,250.
Interested in mastering business essentials in CORe?
Note: Participants that enroll in the Financial Accounting course are not eligible to enroll in the CORe program. And if enrolling in the CORe program, participants are not eligible to enroll separately in the Financial Accounting course.
Syllabus
Financial Accounting will teach you the fundamentals of financial accounting from the ground up. You will learn how to prepare a balance sheet, income statement, and cash flow statement, analyze financial statements, and calculate and interpret critical ratios. You will also learn the role of managerial judgment in choosing accounting estimates and methods. The course concludes with an introduction to forecasting and valuation.
New cases: Starting with the October 2021 wave, Financial Accounting includes two new cases: Mahindra Finance in Module 4 and Estee Lauder in Module 7. The Mahindra Finance case covers credit risk management, and the Estee Lauder case introduces lease accounting and the impact of recent changes in lease accounting standards. Professor Narayanan discusses the new material in this video.
Learning requirements: In order to earn a Certificate of Completion, participants must thoughtfully complete all 7 modules, including satisfactory completion of associated quizzes, by stated deadlines.
Modules
Case Studies
Takeaways
Key Exercises
Module 1: The Accounting Equation

Cardullo's Gourmet Shoppe
Apple Inc.
Bikram Yoga Natick

Understand key accounting concepts, terms, and principles

Demonstrate how different transactions impact the accounting equation
Quiz

Module 2: Recording Transactions

Cardullo's Gourmet Shoppe
Bikram Yoga Natick

Understand where financial statement information originates

Record business transactions as journal entries
Construct a trial balance
Quiz

Module 3: Financial Statements

Hipzone
Green Mountain Coffee Roasters

Understand the content and purpose of the income statement and balance sheet
See how the trial balance is used to create the balance sheet and income statement

Construct the balance sheet and income statement
Quiz

Module 4: Adjusting Journal Entries

PepsiCo
New Case (2021): Mahindra Finance

Understand complex accounting transactions and how they relate to accounting principles
Appreciate how to recognize, mitigate, and manage credit risks
Recognize the impact of judgment and bias on financial statements and accounting practices

Record advanced business transactions as journal entries
Quiz

Module 5: The Statement of Cash Flows

Morgan Stanley
American Red Cross

Understand how to construct and interpret the cash flow statement
Recognize the differences between GAAP and IFRS standards for cash flow statement creation

Use the statement of cash flows to evaluate the financial health and life-cycle stage of a business
Quiz

Module 6: Analyzing Financial Statements

Evaluate company performance using profitability, efficiency, leverage, and other ratios

Analyze ratios and use the DuPont Framework to evaluate the financial state and strategy of a business
Team discussion
Quiz

Module 7: Accounting for the Future

Metropolis Healthcare
American Red Cross
New Case (2021): Estée Lauder

Use financial forecasting to predict future revenue, expenses, and cash flow
Understand key concepts and metrics in valuation, including time value of money, terminal value, net present value, internal rate of return, and payback period
Learn how companies account for leases—as a future obligation—and appreciate the impact of changes in lease accounting standards

Learn how to value a venture, project, or investment opportunity
Optional: Practice preparing pro-forma financial statements, calculating and forecasting free cash flows, and performing a sensitivity analysis in Excel
Quiz
The HBS Online Advantage
World-class faculty
Edge-of-your-seat online learning
Global peer collaboration and networking
Real-world, case-based learning
Harvard Business School Online offers a unique and highly engaging way to learn vital business concepts. Immerse yourself in real challenges faced by business leaders across a variety of industries. Financial Accounting puts you in the shoes of an equity research analyst, yoga studio owner, and leader of one of the largest nonprofits in the United States. You'll wrestle with the same issues they faced, while problem-solving and interacting with fellow learners from around the world.
Stories from Our Learners
A few weeks into the course, accounting terminology came alive as I realized why accounting is the language of business. I can now talk confidently with clients and understand the business aspect of their problems.

Daily, I use the accounting principles succinctly enumerated by Professor Narayanan. I especially use what I learned in the volunteer work that I do as a board member for two nonprofit organizations.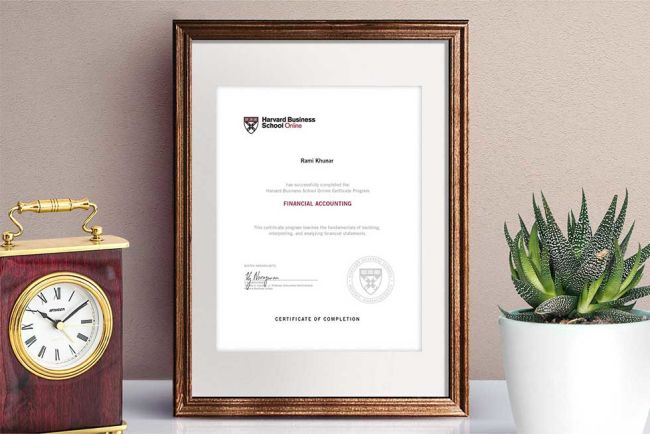 Earn Your Certificate
Enroll today in Harvard Business School Online's Financial Accounting course.
Apply Now