Entrepreneurship Essentials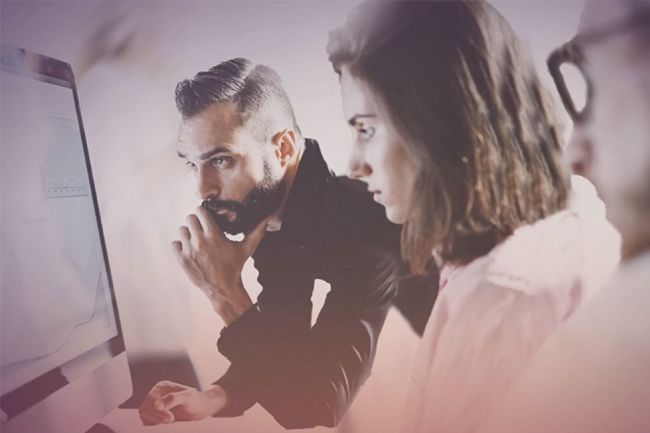 Entrepreneurship Essentials
Master a Proven Framework for Building and Financing New Ventures
Entrepreneurship Essentials helps you turn an idea into a viable venture. Learn how entrepreneurs validate concepts through structured experiments, refine their business strategy, and raise the capital necessary to create value and grow their business.
Apply Now
What You'll Learn
Identify a business opportunity
Evaluate an idea and assess the market
Explore the risks and rewards of entrepreneurship
Leverage experiments to validate concepts and refine your business strategy
Discover the key financial decisions entrepreneurs must make in the early stages of a startup
Understand the process of raising capital and how to speak to investors
About the Professor
William Sahlman is a Baker Foundation Professor of Business Administration at Harvard Business School. He previously served as co-chair of the Rock Center for Entrepreneurship, co-chair of the School's Entrepreneurial Management unit, chairman of the board for Harvard Business School Publishing, and Senior Associate Dean for External Relations. He is a widely published author of numerous articles and two textbooks, and has published more than 200 case studies on entrepreneurial ventures.
Who Will Benefit
Aspiring Entrepreneurs
Whether you're a first-time entrepreneur with the start of an idea or are exploring entrepreneurship, learn the language of the startup world.
Early-Stage Entrepreneurs

Gain an overarching framework to evaluate opportunities, manage startups, and finance new ventures.
Students
See what it takes to be a successful entrepreneur and determine whether starting a business, or working for a startup, is the right path for you.
Program Structure
Entrepreneurship Essentials consists of approximately 25 to 30 hours of material delivered over a four-week period. You can complete the coursework on your own time while meeting regular deadlines.
January 2023
Length: 4 Weeks
Program Dates: 1/25/23 – 2/22/23
Cost: $1,750
Application Deadline: January 16
Apply Now
March 2023
Length: 4 Weeks
Program Dates: 3/22/23 – 4/19/23
Cost: $1,750
Application Deadline: March 13
Apply Now
May 2023
Length: 4 Weeks
Program Dates: 5/24/23 – 6/21/23
Cost: $1,750
Application Deadline: May 15
Apply Now
Entrepreneurship Essentials is part of the Entrepreneurship & Innovation Learning Track. If you're interested in developing deeper insights and expertise, you can choose to complete three entrepreneurship and innovation courses within 18 months to earn a Certificate of Specialization.
Syllabus
Entrepreneurship Essentials introduces you to the entrepreneurial journey from finding an idea, to gaining traction in the marketplace, to raising capital for your venture. This course explains how entrepreneurs run structured experiments to validate ideas and refine business strategy. You will dive deep into the numbers behind how entrepreneurs and their investors make financial decisions to create value and grow their operations.
Learning requirements: In order to earn a Certificate of Completion, participants must thoughtfully complete all 4 modules by stated deadlines.
Modules
Case Studies
Takeaways
Key Exercises
Module 1: Ideas and Opportunities

Identify an entrepreneurial idea
Evaluate an entrepreneurial idea
Gain comfort with twists and turns

Sizing the market
Estimate willingness to pay

Module 2: Building a Business

Apply the POCD (People, Opportunity, Context, Deal) framework
Manage risk and reward through experimentation
Make decisions with the future in mind

Evaluating POCD elements and fit
Designing and learning from tests
Anticipating change and reacting to new information

Module 3: Financing a Business

Determine how investment can help you create value for yourself and your investors
Consider risk and reward through various forms of analysis
Discover when to solicit investment and how much you will need to seek out

Understanding and presenting key financial metrics
Determining investment needs

Module 4: Sources of Investment

Understand the opportunities and tradeoffs associated with different sources of financing
Defining key financing terms
Apply the tools of valuation to start-up ventures

What do entrepreneurs get from investors?
Calculating the value of a start-up
The HBS Online Advantage
World-class faculty
Edge-of-your-seat online learning
Global peer collaboration and networking
Real-world, case-based learning
Harvard Business School Online offers a unique and highly engaging way to learn vital business concepts. Immerse yourself in real challenges faced by seasoned leaders across a variety of industries, including serial entrepreneur John Osher; Jennifer Hyman, CEO of Rent the Runway; and Scott Cook, founder of Intuit. Wrestle with the same issues they faced, while problem-solving and engaging with learners from around the world.
Stories from Our Learners
Professor Sahlman's careful observation of the best and brightest entrepreneurs over the last 30 years has given him a perspective and insightfulness that few others can rival. He keeps his students eager to dissect and analyze the situation and range of solutions.

The People, Opportunity, Context, and Deal framework is now in the back of my mind. Also, I have learned how to quickly assess and network with other companies and panelists at the hundreds of meetup events I've attended.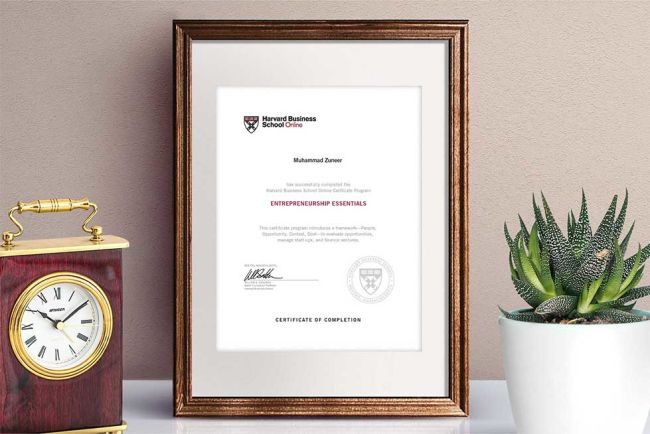 Earn Your Certificate
Enroll today in Harvard Business School Online's Entrepreneurship Essentials course.
Apply Now