Entrepreneurship Essentials
$1,750
Next 4-week session starts February 7th
Master a proven framework for building and financing new ventures, and make your entrepreneurial dreams a reality.
Self-Paced
with regular deadlines
Who Will Benefit
Whether you're a first-time entrepreneur with the start of an idea or are exploring entrepreneurship, learn the language of the startup world.
While I have a deep business background, I was not well versed in several important aspects of entrepreneurship like investment structure, fundraising, and valuation. Entrepreneurship Essentials covered these topics well and I was surprised at some of the additional takeaways I had.

Maggie Robb
Head of Operations at Spire Inc.
Gain an overarching framework to evaluate opportunities, manage startups, and finance new ventures.
My favorite part of Entrepreneurship Essentials was the financing and equity module. It taught me the basics of how to look at spreadsheets and make sense of them—one of the most vital things for any company or start-up to understand.

Explore what it takes to be a successful entrepreneur and determine whether starting a business, or working for a startup, is the right path for you.
I loved the case study on Intuit and the Quickbook App. It was something I could relate to, and it helped me to understand and know that fear can be good because it fuels your passion to keep you moving forward.

Anita Umoh
Director at Ayzer Limited
What You Earn
Certificate of Completion
Boost your resume with a Certificate of Completion from HBS Online
Earn by: completing this course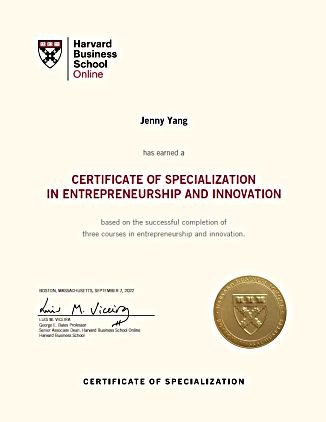 Certificate of Specialization
Prove your mastery of entrepreneurship and innovation
Earn by: completing any three courses within this subject area to earn a Certificate of Specialization
Syllabus
4 Modules, 25-30 Hours
Module 1
Ideas and Opportunities
Identify and evaluate an entrepreneurial idea, and gain confidence with twists and turns.
Concepts

Course Introduction and Onboarding

What Is Entrepreneurship?

Evaluating Ideas

John Osher: Illustrating the Entrepreneurial Process

Featured Exercises

Sizing the market

Estimate willingness to pay
Module 2
Building a Business
Apply the POCD (People, Opportunity, Context, Deal) framework, and learn how to manage risk and reward through experimentation.
Concepts

The POCD Framework

The Journey of Rent the Runway

Post-Launch Considerations

Dynamic Fit Management

Featured Exercises

Evaluating POCD elements and fit

Designing and learning from tests

Anticipating change and reacting to new information
Module 3
Financing a Business
Determine how and when investment can help you create value for yourself and your investors, and consider risk and reward through various forms of analysis.
Concepts

Using Money to Produce Information

The Investor Perspective

Business Models

Calculating Financing Needs

Featured Exercises

Understanding and presenting key financial metrics

Determining investment needs
Module 4
Sources of Investment
Define key finance terms and understand the opportunities and tradeoffs associated with different sources of financing
Concepts

Fundraising

Term Sheets and Valuation

Bringing It Together

Featured Exercises

What do entrepreneurs get from investors?

Calculating the value of a startup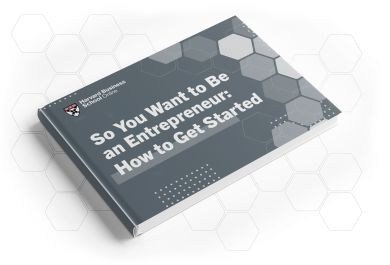 In this guide, you'll learn about what characterizes a successful entrepreneur, how to decide if entrepreneurship is right for you, and what skills you need to thrive.
Our Difference
Entrepreneurship Essentials helps you turn an idea into a viable venture.
Learner Stories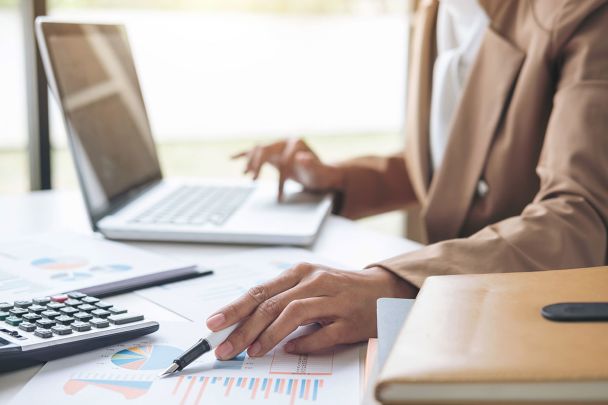 94%
The People, Opportunity, Context, and Deal framework is now in the back of my mind. Also, I have learned how to quickly assess and network with other companies and panelists at the hundreds of meetup events I've attended.
Vasilios Dimopoulos
Associate at Deutsche Bank
Professor Sahlman's careful observation of the best and brightest entrepreneurs over the last 30 years has given him a perspective and insightfulness that few others can rival. He keeps his students eager to dissect and analyze the situation and range of solutions.
Janet Krauss - Entrepreneurship Essentials
CEO at Peach
* Source: 2022 surveys and course data
All FAQs
Entrepreneurship Essentials FAQs
Participants in Entrepreneurship Essentials are eligible for a Certificate of Completion from Harvard Business School Online.
Participants are expected to fully complete all coursework in a thoughtful and timely manner. This will mean meeting each week's course module deadlines and fully answering questions posed therein. This helps ensure your cohort proceeds through the course at a similar pace and can take full advantage of social learning opportunities. In addition to module and assignment completion, we expect participation in the social learning elements of the course by offering feedback on others' reflections and contributing to conversations on the platform. Participants who fail to complete the course requirements will not receive a certificate and will not be eligible to retake the course.
More detailed information on course requirements will be communicated at the start of the course. No grades are assigned for Entrepreneurship Essentials. Participants will either be evaluated as complete or not complete.
You will have access to the materials in every prior module as you progress through the program. Access to course materials and the course platform ends 60 days after the final deadline in the program.
Harvard Business School Online
Certificate in Entrepreneurship Essentials
[Cohort Start Month and Year]
List your certificate on your LinkedIn profile under "Education" with the language from the Credential Verification page:
School: Harvard Business School Online
Dates Attended: [The year you participated in the program]
Degree: Other; Certificate in Entrepreneurship Essentials
Field of Study: Leave blank
Grade: "Complete"
Activities and Societies: Leave blank
For the program description on LinkedIn, please use the following:
Entrepreneurship Essentials is a 4-week, 30-hour online certificate program from Harvard Business School. Entrepreneurship Essentials introduces participants to the entrepreneurial journey from finding an idea to gaining traction in the marketplace to raising capital for a venture. Participants learn an overarching framework—People, Opportunity, Context, Deal—to evaluate opportunities, manage start-ups, and finance ventures.
This course also introduces participants to the idea that entrepreneurs run structured experiments to validate ideas and refine business strategy. Participants work through real-world challenges faced by entrepreneurs across a variety of industries, and come away with tangible tools and techniques that they can apply to their own entrepreneurial journeys.