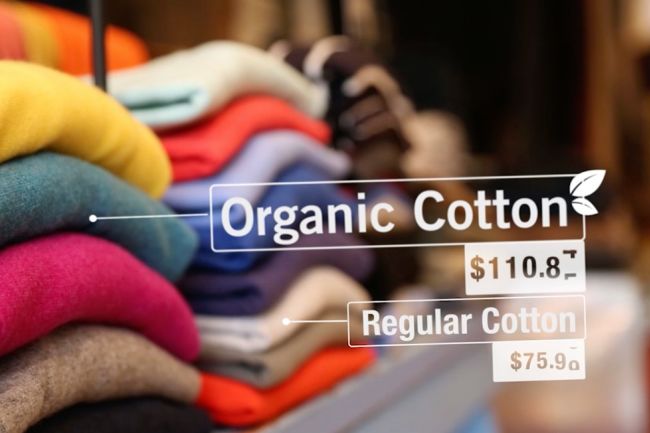 Gain the Knowledge and Skills Needed to Craft Successful Business Strategy
Economics for Managers will enable you to drive critical business decisions. Explore how businesses approach pricing strategy, evaluate market demand, and differentiate their offerings, and how you can apply those learnings to compete in the marketplace successfully.
Apply Now
What You'll Learn
Develop effective pricing strategies
Benchmark costs compared to competitors through relative cost analysis
Apply conjoint analysis to understand what features customers value most
Understand the power of network effects to drive demand
Identify sources of competitive advantage through differentiation
About the Professor

Bharat Anand is the Henry R. Byers Professor of Business Administration for Harvard Business School and Harvard University's Vice Provost for Advances in Learning. He is an expert in digital and corporate strategy, and has studied how new technologies affect what we watch, read, and hear—which you can learn more about in his book, The Content Trap: A Strategist's Guide to Digital Change. He is a two-time recipient of Harvard Business School's "Best Teacher" award.
Who Will Benefit
Aspiring Marketing, Strategy, or Consulting Professionals
Explore the world of business through the lens of economics as you prepare for your next opportunity.
Those Considering an MBA

Prepare for the MBA classroom with the program Harvard Business School offers to incoming students.
Mid-Career Professionals
Understand how markets work and firms compete in order to develop successful business strategy.
Program Structure
Economics for Managers consists of approximately 60 hours of material delivered over an eight-week period. You can complete the coursework on your own time while meeting regular deadlines.
February 2023
Length: 8 Weeks
Program Dates: 2/22/23 – 4/19/23
Cost: $1,750
Application Deadline: February 13
Apply Now
May 2023
Length: 8 Weeks
Program Dates: 5/24/23 – 7/19/23
Cost: $1,750
Application Deadline: May 15
Apply Now
This course is also part of our three-course Credential of Readiness (CORe) program—consisting of Business Analytics, Economics for Managers, and Financial Accounting—available for $2,250.
Interested in mastering business essentials in CORe?
Note: Participants that enroll in the Economics for Managers course are not eligible to enroll in the CORe program. And if enrolling in the CORe program, participants are not eligible to enroll separately in the Economics for Managers course.
Learning Tracks
Economics for Managers is also part of the Strategy Learning Track. If you're interested in developing deeper insights and expertise, you can choose to complete three strategy courses within 18 months to earn a Certificate of Specialization.
Syllabus
Economics for Managers applies fundamental economic principles to real-world business challenges. You will dive into topics like customer demand, supplier cost, markets, and competition. You will learn how businesses think about pricing, production, and differentiation. In the process, you will learn how to develop the beginnings of a competitive strategy that will lead to a business thriving over time.
Learning requirements: In order to earn a Certificate of Completion, participants must thoughtfully complete all 5 modules, including satisfactory completion of associated quizzes, by stated deadlines.
Modules
Case Studies
Takeaways
Key Exercises
Module 1: Customer Demand - Foundations

Understand the relationship between willingness to pay and price
Determine a revenue-maximizing pricing strategy using the concept of elasticity

Construct supply and demand curves for individuals and markets and analyze the impact of market changes
Quiz

Module 2: Strategies for Assessing and Increasing Demand

Evaluate techniques to learn about or increase demand and measure the tradeoffs and suitable applications of each approach
Appreciate how complements and network effects impact demand

Explore the dynamics of different forms of auctions
See how conjoint analysis can be used to understand customer preferences
Quiz

Module 3: Suppliers and Cost

Understand fixed versus variable costs
Understand economies of scale

Predict market structure by examining various costs and cost structures
Evaluate options by performing a relative cost analysis
Quiz

Module 4: Markets

Apply market principles to analyze industries in which no traditional market functions

Identify value creation and decompose its distribution to illustrate how trade occurs
Examine the competitive landscape by differentiating long- and short-run market outcomes and forces
Quiz

Module 5: Competition and Differentiation

Assess monopolies and price discrimination
Understand different strategies for differentiation

Explore competitive differentiation through the example of rival pizzerias setting price and location
Quiz
The HBS Online Advantage
World-class faculty
Edge-of-your-seat online learning
Global peer collaboration and networking
Real-world, case-based learning
Harvard Business School Online offers a unique and highly engaging way to learn vital business concepts. Immerse yourself in real challenges faced by business leaders across a variety of industries. Economics for Managers takes you inside a growing online retailer, an events ticket broker, a multinational publishing company, and other firms evaluating market demand, wrestling with pricing strategy, and trying to differentiate themselves. Step into their shoes, and discuss and debate the issues they faced with fellow learners from around the world.
Stories from Our Learners
Economics for Managers was immensely valuable. Hearing from founders and seeing the power of network effects through various case studies helped me see market opportunities through an entirely different lens. The market knowledge I acquired helped me refine and expertly craft research reports.

The most impressive part of Economics for Managers was the case studies from a managerial perspective, including an analysis of a pharmaceutical company's pricing of a drug and the ethics of measuring consumers' willingness to pay for medicine. Due to the cohort's diversity in experiences and backgrounds, this discussion included the voices of the patient, the manager, and the policymaker.

Economics for Managers gave me a new lens to look at the business world using common economics concepts, such as demand-supply curves, elasticity, equilibrium, markets, and pricing.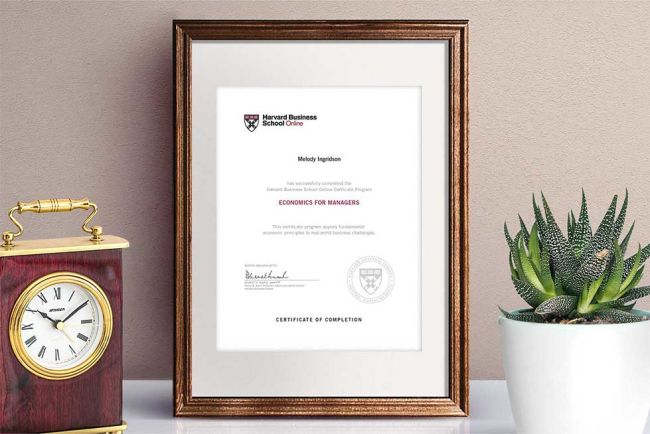 Earn Your Certificate
Enroll today in Harvard Business School Online's Economics for Managers course.
Apply Now