Disruptive Strategy
$1,750
Next 6-week session starts January 24th
Harness the power of disruptive innovation to craft winning strategies.
Self-Paced
with regular deadlines
Who Will Benefit
Align your resources, processes, and financial strategy to position your business for growth.
I have gotten an incredible wealth of knowledge and theories that are ready to apply. With every minute of learning, my company was better off and was setting a course for success.

Andrzej Buks
Vice President at Dakota Guardian Trust
Assess opportunities and learn how to better determine what profitability looks like as your industry evolves.
I feel like I have an unfair advantage now knowing what I've learned from this course. It has given me confidence and clarity in my decisions, and I can already see the material impact of applying this model and mindset to our business and our culture.

Dave Nelson
Head of Sales at WegoWise
Discover what causes customers to buy your products and why, and predict when disruption will happen.
The course equipped me with new ways to think about problems, products, businesses, and just everything in life.

Daniella Patrick
Innovation Lab Product Manager at Accenture
What You Earn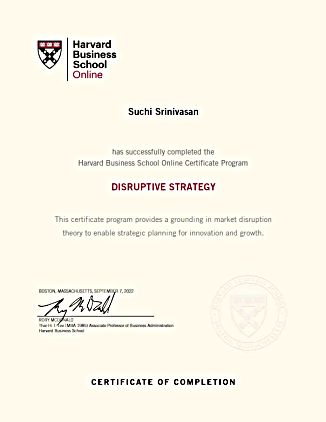 Certificate of Completion
Boost your resume with a Certificate of Completion from HBS Online
Earn by: completing this course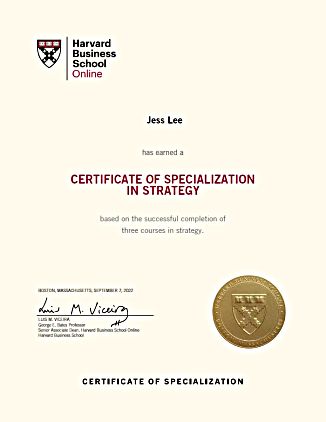 Certificate of Specialization
Prove your mastery of entrepreneurship and innovation and strategy
Earn by: completing any three courses within this subject area to earn a Certificate of Specialization
Syllabus
5 Modules, 30-35 Hours
Introduction
Lenses on the World
Adopt a strategic mindset and learn how to generate and articulate your strategic questions.
Highlights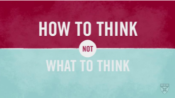 Framing Your Strategic Question
Concepts

Applying Lenses on the World to You

Featured Exercises

Generating Your Strategic Question
Module 1
Aligning with Innovation and Disruption
Identify the three types of innovation, predict when they'll occur, and harness disruption to position your business for growth.
Concepts

Introduction

Three Types of Innovation

Some Finer Details About Disruption

WR Hambrecht and the Google IPO

Applying Innovation and Disruption to You

Featured Exercises

Team Discussion: Blockbuster's Demise

Team Project: The New Age of Financial Advice?
Module 2
Discovering Customer Jobs to be Done
Focus on what causes your customers to buy your products and why, and achieve differentiation, better margins, and avoid disruption.
Concepts

Understand Jobs to be Done

Case Practice

The Godrej Group

Applying Jobs to be Done to You

Featured Exercises

One-on-One Discussion & Interview Assignment: Discovering Customer Jobs to be Done

Team Discussion: Innovation in Yogurt
Module 3
Organizing for Innovation
Determine what your organization can and can't do, and align your resources, processes, and profit formula to develop an innovative culture and position your business for growth.
Concepts

Organization Capabilities

Nypro Manufacturing

Case Practice

Applying Organizing for Innovation to You

Featured Exercises

Brainstorming for Final Paper: Examine Your Organization's Resources, Processes, and Profit Formula to Foster Growth and Success in the Future
Module 4
Maintaining a Disruptive Scope
Build a strong intuition to "skate" to where profit will be as your industry evolves and determine which operations are critical to be done in-house and which you can outsource.
Concepts

Determining the Scope of the Organization

Refining Your Strategy

MediaTek

Applying Maintaining a Disruptive Scope to You

Featured Exercises

Reflection: Determining Ways in Which Your Organization Could Use a More Integrated or Specialized Strategy

Reflection: Discovering the Scope for Your Organization
Module 5
Managing the Strategy Development Process
Effectively balance the deliberate and emergent strategy processes to unlock innovation within your organization and determine which "type" of money will empower new business ideas to flourish.
Concepts

The Strategy Development Process

The Phases of Business Development

OnStar

Applying Managing the Strategy Development Process to You

Featured Exercises

Reflection: Examining How to Align Your Organization's Profit Formula and Stated Strategy

Team Discussion: Identifying "Hardened" Companies
Conclusion
Reflecting on Disruptive Strategy
Explore how to apply what you learned in Disruptive Strategy tomorrow, next week, or over the next year.
Featured Exercises

Individual Assignment: Final Paper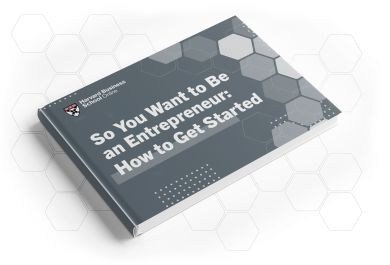 In this guide, you'll learn about what characterizes a successful entrepreneur, how to decide if entrepreneurship is right for you, and what skills you need to thrive.
Our Difference
Disruptive Strategy will equip you with the skills and techniques to develop executive-level strategy, organize for innovation, and discover customer jobs to be done.
Learner Stories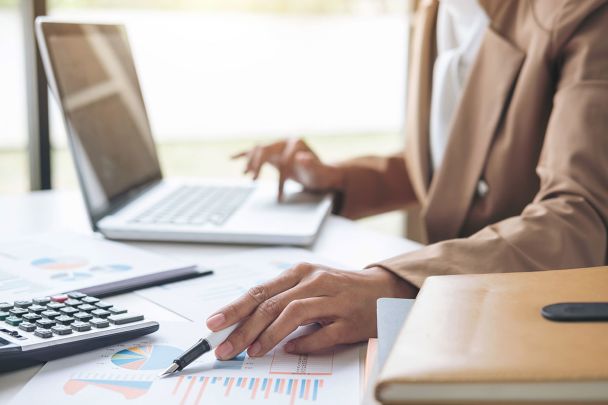 76%
I have already applied so much of what I have learned. My strategy and message for my team and how we communicate with our customers has begun to shift.

Paige Peterson
Sales Manager, Western US at Coravin, Inc.
As a consultant running a boutique management and technology consulting practice, I have already started applying what I have learned in Disruptive Strategy towards my own business.

David Bergin
Chief Technology Officer at Nantucket Technology Partners
* Source: 2022 surveys and course data
All FAQs
Disruptive Strategy FAQs
Participants in Disruptive Strategy are eligible for a Certificate of Completion from Harvard Business School Online.
Participants are expected to fully complete all coursework in a thoughtful and timely manner. This will mean meeting each week's course module deadlines and fully answering questions posed therein. This helps ensure your cohort proceeds through the course at a similar pace and can take full advantage of social learning opportunities. In addition to module and assignment completion, we expect participation in the social learning elements of the course by offering feedback on others' reflections and contributing to conversations on the platform. Participants who fail to complete the course requirements will not receive a certificate and will not be eligible to retake the course.
More detailed information on course requirements will be communicated at the start of the course. No grades are assigned for Disruptive Strategy. Participants will either be evaluated as complete or not complete.
You will have access to the materials in every prior module as you progress through the program. Access to course materials and the course platform ends 60 days after the final deadline in the program.
At the end of each course module, you will be able to download a PDF summary highlighting key concepts introduced in the course. At the end of the program, you will receive a PDF compilation of all of the module summary documents. We hope the module summary documents will serve as a helpful resource after you finish the course.
Once you've earned your Certificate of Completion, list it on your resume along with the date of completion:
Harvard Business School Online
Certificate in Disruptive Strategy with Clayton Christensen
[Cohort Start Month and Year]
List your certificate on your LinkedIn profile under "Education" with the language from the Credential Verification page:
School: Harvard Business School Online
Dates Attended: [The year you participated in the program]
Degree: Other; Certificate in Disruptive Strategy with Clayton Christensen
Field of Study: Leave blank
Grade: "Complete"
Activities and Societies: Leave blank
Description:
Disruptive Strategy with Clayton Christensen is a 6-week, 30-hour online certificate program from Harvard Business School. Disruptive Strategy helps students become fluent in disruption theory and gain confidence in articulating complex viewpoints, apply strategic frameworks to assess new opportunities and potential threats, and acquire techniques for executive-level strategy formulation and team management. The program was developed by leading Harvard Business School faculty and is delivered in an active learning environment based on the HBS signature case-based learning model.
Harvard Business School Online is saddened by the loss of acclaimed teacher, scholar, and innovator Clayton Christensen. Professor Christensen's online Disruptive Strategy course has engaged thousands of learners and will continue to reach individuals worldwide. HBS Online worked closely with Professor Christensen on the development of the course and is honored to deliver Disruptive Strategy as part of his legacy.