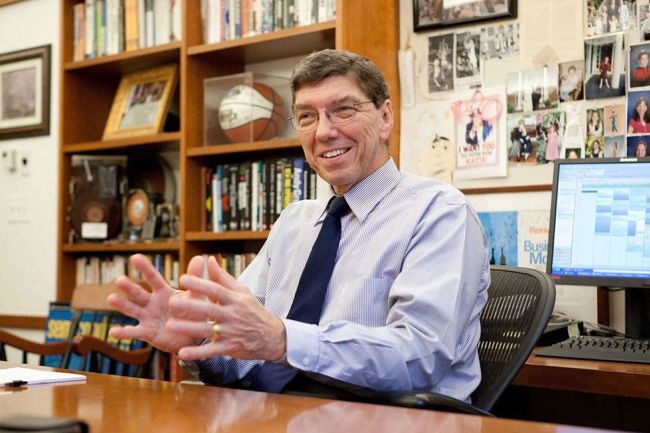 Harness the Power of Disruptive Innovation to Craft Winning Strategies
Disruptive Strategy enables you to make innovation a reality. Created by Clayton Christensen, who coined the theory of disruptive innovation, this online course will equip you with the skills and techniques to develop executive-level strategy, organize for innovation, and discover customer jobs to be done.
Apply Now
What You'll Learn
Become fluent in disruptive innovation theory
Assess new opportunities and potential threats
Discover jobs to be done and develop frameworks to better understand customer needs
Acquire techniques for executive-level strategy development
Organize for innovation and maintain a disruptive scope
Gain confidence articulating complex viewpoints
Harvard Business School Online is saddened by the loss of acclaimed teacher, scholar, and innovator Clayton Christensen. Professor Christensen's online Disruptive Strategy course has engaged thousands of learners and will continue to reach individuals and organizations worldwide. HBS Online worked closely with Professor Christensen on the development of the course and is honored to deliver Disruptive Strategy as part of his legacy.
About the Professors

Rory McDonald is the Thai-Hi T. Lee (MBA 1985) Associate Professor of Business Administration in the Technology and Operations Management Unit at Harvard Business School. He teaches the MBA course Building and Sustaining a Successful Enterprise and, in 2016, was named one of the world's top 40 business school professors under 40 by Poets & Quants. His book, Productive Tensions: How Every Leader Can Tackle Innovation's Toughest Trade-Offs, focuses on how leaders can achieve success by embracing the tensions that arise from competing aims—efficiency versus flexibility, consistency versus change, product versus purpose.

Clayton Christensen was the Kim B. Clark Professor of Business Administration at Harvard Business School, and is regarded as one of the world's top experts on disruption, innovation, and growth strategy. He was twice named the world's most influential business thinker and authored several books, including The Innovator's Dilemma, which lays out his theory of disruption, New York Times best-selling How Will You Measure Your Life?, focused on achieving happiness in your personal life, and The Prosperity Paradox, which explores how innovation can help lift nations out of poverty.
Who Will Benefit
Innovative Leaders
Align your resources, processes, and financial strategy to position your business for growth.
Forward-Thinking Strategists

Assess opportunities and learn how to better determine what profitability looks like as your industry evolves.
Aspiring Entrepreneurs
Discover what causes customers to buy your products and why, and predict when disruption will happen.
Program Structure
Disruptive Strategy consists of 30 to 35 hours of material delivered over a six-week period. You can complete the coursework on your own time while meeting regular deadlines. In addition, two group exercises and an individual final paper are required for course completion. This course is delivered fully online, with no live faculty interaction.
Disruptive Strategy is part of the Strategy and Entrepreneurship & Innovation Learning Tracks. If you're interested in developing deeper insights and expertise, you can choose to complete three strategy or entrepreneurship and innovation courses within 18 months to earn a Certificate of Specialization.
Syllabus
Disruptive Strategy is an online program providing world-renowned tools and frameworks for growth, strategy, and innovation.
Learning requirements: In order to earn a Certificate of Completion, participants must thoughtfully complete all modules (Introduction, Modules 1-4, and Conclusion) and exercises therein (including a Team Project, Jobs to be Done Interview, and Final Paper, among others), by stated deadlines.
Download Disruptive Strategy Syllabus
Modules
Case Studies
Takeaways
Key Exercises
Introduction: Lenses on the World

Intel: Learn how Professor Christensen helped Intel Chairman Andy Grove confront a disruptive threat by showing him how to think, not what to think.

Adopt a strategic mindset
Articulate your strategic questions

Generating Your Strategic Question

Module 1: Aligning with Innovation and Disruption

WR Hambrecht and the Google IPO: A New Approach to Investment Banking
Honda Motor Company: Entering a New Market
CircleUp: Re-imagining Private Equity

Identify the three types of innovation and predict when they will happen
Harness disruption and position your business for new growth

Team Discussion: Blockbuster's Demise
Team Project: The New Age of Financial Advice

Module 2: Discovering Customer Jobs to be Done

The Walt Disney Company: Expanding the Theme Park Business
The Godrej Group: Understanding Refrigeration Needs in India
Minute Clinic: A New Approach to Healthcare Delivery

Focus on what causes your customers to buy your products and why
Achieve differentiation, better margins, and avoid disruption

One-on-One Discussion & Interview Assignment: Discovering Customer Jobs to be Done
Team Discussion: Innovation in Yogurt

Module 3: Organizing for Innovation

Nypro, Inc.: Seeking Growth Through a New Product Line
Charles Schwab: Trading in the New World of Internet
EMC: Merging Competing Products Through an Acquisition

Identify what your organization can do and cannot do
Align your resources, processes, and profit formula to develop an innovative culture and position your business for growth

Brainstorming for Final Paper: Examine Your Organization's Resources, Processes, and Profit Formula to Foster Growth and Success in the Future

Module 4: Maintaining a Disruptive Scope

Music Industry: Producing and Performing in a New Age
MediaTek: Expanding Accessibility to New Technologies in Asia

Build a strong intuition to "skate" to where profit will be as your industry evolves
Determine which operations are critical to be done in-house and which operations can be outsourced

Reflection: Determining Ways in Which Your Organization Could Use a More Integrated or Specialized Strategy
Reflection: Discovering the Scope for Your Organization

Module 5: Managing the Strategy Development Process

OnStar: General Motor's New Innovation
Netflix: The Evolution of Home Entertainment
Sears, IBM, and AOL: Understanding Internet Consumption During the Boom of the Digital Age

Effectively balance the deliberate and emergent strategy processes to unlock innovation within your organization
Determine which "type" of money will empower new business ideas to flourish

Reflection: Examining How to Align Your Organization's Profit Formula and Stated Strategy
Team Discussion: Identifying "Hardened" Companies

Conclusion: Reflecting on Disruptive Strategy

Explore how to apply what you learned in Disruptive Strategy tomorrow, next week, or over the next year

Individual Assignment: Final Paper
The HBS Online Advantage
World-class faculty
Edge-of-your-seat online learning
Global peer collaboration and networking
Real-world, case-based learning
Harvard Business School Online offers a unique and highly engaging way to learn vital business concepts. Immerse yourself in real challenges faced by seasoned leaders across a variety of industries, including Bill Hambrecht, founder of WR Hambrecht & Co.; Eric Schmidt, executive chairman of Google; Joe Tucci, chairman and CEO of EMC; and Ryan Caldbeck, founder of equity crowdfunding platform CircleUp. Wrestle with the same issues they faced, while problem-solving and engaging with learners from around the world.
Stories from Our Learners
The framework of Disruptive Strategy helps you to make strategic thinking something that you do every day, as opposed to an exercise to get a strategic plan put together.

The Disruptive Strategy class was so very engaging, you really feel like you know Clay Christensen by the end of the class. And more than that, you really feel like you know your peers.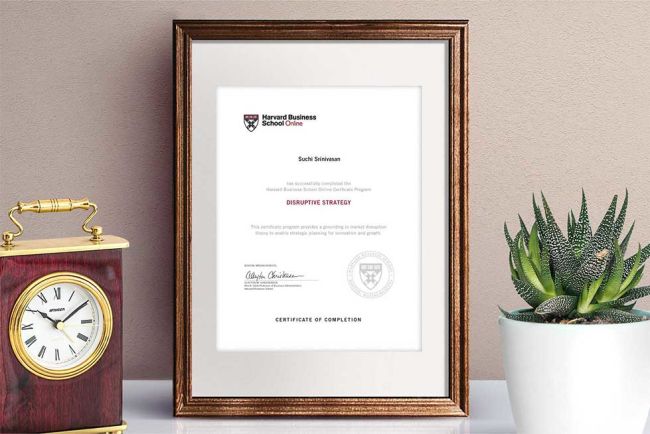 Earn Your Certificate
Enroll today in Harvard Business School Online's Disruptive Strategy course.
Apply Now