Design Thinking and Innovation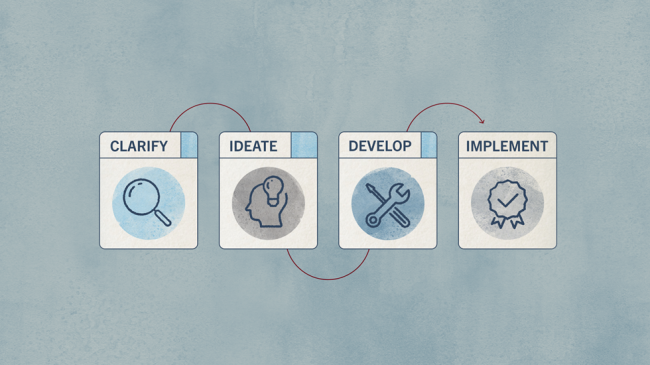 Design Thinking and Innovation
Uncover Innovative Solutions to Your Most Challenging Business Problems
Design Thinking and Innovation will teach you how to leverage fundamental design thinking principles and innovative problem-solving tools to address business challenges and build products, strategies, teams, and environments for optimal use and performance.
Apply Now
What You'll Learn
Approach problems using structured methods of gathering observations, breaking cognitive fixedness, and generating creative ideas for solutions
Apply creative solutions and behavior-change analysis to innovation development and internal team processes
Develop a strategic innovation toolkit and learn when and how to apply design thinking and innovative problem-solving tools and exercises
Practice empathy in applying a human-centered approach to design techniques, such as user research, user experience, prototyping, and journey mapping
Assess group dynamics and improve team performance through tools and processes designed to enhance collaboration and iteration in development
Guide teams to draw from a wide range of professional experiences and backgrounds and create stronger collaboration dynamics to heighten their approach to innovation
About the Professor
Srikant Datar is the George F. Baker Professor of Administration and Dean of Harvard Business School. During his tenure at HBS, he's served as the Senior Associate Dean for University Affairs, for Research, for Executive Education, for Faculty Development, and for Faculty Recruiting, and as Faculty Chair of the Harvard Innovation Labs. An award-winning educator, Datar received gold medals upon graduation from the Indian Institute of Management, Ahmedabad, and the Institute of Cost and Work Accountants of India. He's the co-author of the leading cost accounting textbook, Cost Accounting: A Managerial Emphasis, and Rethinking the MBA: Business Education at a Crossroads.
Who Will Benefit
Aspiring or Current Innovation Managers
Develop an innovation mindset and toolkit you can use to guide your team or organization's strategy.
Entrepreneurs

Discover frameworks and techniques you can leverage to bring new and innovative products or services to market.
Product Managers, Developers, and Marketers
Create products and services that resonate with your audience by understanding and applying human-centered design.
Program Structure
Design Thinking and Innovation features five weeks of course content and two weeks of project work, enabling you to put your learning into practice. You'll have the opportunity to collaborate and problem-solve with your peers, who come from a wide range of professional experiences, backgrounds, and countries. In the process, you'll build your network while gaining insights you can apply to your own organization.
The course consists of approximately 35–40 hours of material, including 30–35 hours of course content and 5 hours of project work. You can complete the coursework on your own time while meeting regular deadlines.
April 2023
Length: 7 Weeks
Program Dates: 4/5/23 – 5/24/23
Cost: $1,750
Application Deadline: March 27
Apply Now
Design Thinking and Innovation is part of the Entrepreneurship & Innovation Learning Track. If you're interested in developing deeper insights and expertise, you can choose to complete three entrepreneurship and innovation courses within 18 months to earn a Certificate of Specialization.
Syllabus
Design Thinking and Innovation equips current and aspiring innovation managers with the design thinking principles and innovative problem-solving tools to solve business challenges and guide their organization's strategy. The course features five weeks of course content and two weeks of project work, enabling you to put your learning into practice. Leaders interviewed include Moderna CEO Stéphane Bancel, Royal Philips CEO Frans van Houten, and T-Mobile CEO Mike Sievert, among others. Participants will walk away with an innovation toolkit of frameworks and exercises for identifying business opportunities and generating possible solutions for their organization's initiatives.
Learning requirements: In order to earn a Certificate of Completion, participants must thoughtfully complete all 7 modules (5 content weeks and 2 project weeks) by stated deadlines
Leaders interviewed:
Stéphane Bancel, CEO, Moderna
Sean Carney, CDO and Business Leader for Healthcare Transformation Services, Royal Philips
Phil Gilbert, General Manager, Design, IBM
Frans van Houten, CEO, Royal Philips
D. R. Mehta, Founder and Chief Patron, BMVSS
Shani Sandy, Design Executive, IBM
Mike Sievert, CEO, T-Mobile
Yoni Stern, Partner and SVP of Business Development, Systematic Inventive Thinking (SIT)
Christi Zuber, Managing Director and Founder, Aspen Labs
Modules
Case Studies
Takeaways
Key Exercises
Module 1: Content Week - Clarify: Empathy and Understanding

BMVSS: Changing Lives, One Jaipur Limb at a Time

Define users' explicit pain points and latent needs
Reframe the innovation context to identify the most game-changing part of the problem
Analyze the organizational environment for the ideal conditions for insightful thinking

Problem Framing: Reframe problems from various perspectives (deep, emotional, broad, and dynamic) to identify new pain points and make new solutions possible

Module 2: Project Week - Clarify

Practice researching the innovation context and empathizing with users and customers
Increase your ability to adopt insightful perspectives through structured tools

Project: Apply tools from Module 1 to an innovation problem of your own choosing, or a provided scenario

Module 3: Content Week - Ideate, Part 1: Tools for Generating Ideas

Develop the design principles that will help you create user-focused ideas
Experiment with ideation tools for breaking cognitive fixedness and generating ideas
Explore structured but open-ended approaches to ideation such as alternate worlds and brainstorming

SIT's Closed World: Divide an existing product, service, model, or strategy into components and manipulate them to break cognitive fixedness and generate ideas

Module 4: Content Week - Ideate, Part 2: User Values and Behaviors

Innovation at Insigne Health

Refine innovation ideas using design heuristics
Apply research-based personas and behavior models to make innovations easier to adopt

B. J. Fogg Behavioral Model: Identify prompts to improve users' ability and motivation to engage in a desired behavior

Module 5: Project Week - Ideate

Practice generating ideas and evaluating them against research and key insights
Increase your ability to break cognitive fixedness through structured tools

Project: Apply tools from Modules 3 and 4 to your innovation problem or the provided scenario

Module 6: Content Week - Develop: An Experimentation Mindset

Combine ideas into complex innovation concepts
Critique and strengthen concepts using evaluation tools
Guide prototyping by creating critical questions related to a concept's desirability, feasibility, and viability

Concept Poster: Organize all information about an innovation concept to identify critical questions for prototyping

Module 7: Content Week - Implement: Communication and Structure

Royal Philips: Designing Toward Profound Change

Assess developer and user perspectives for bias that may affect implementation
Apply frameworks to strengthen communications about an innovation's value
Reflect on management skills for sustaining a culture of innovation

Stakeholder Analysis: Compare the resistance and status-quo bias of key stakeholders and develop a communication plan
The HBS Online Advantage
World-class faculty
Edge-of-your-seat online learning
Global peer collaboration and networking
Real-world projects, case-based learning
Harvard Business School Online offers a unique and highly engaging way to learn vital business concepts. Immerse yourself in real challenges faced by leading businesses, including BMVSS, IBM, Insigne Health, Frog Design, and Philips. You'll wrestle with the issues they faced, all while engaging with fellow learners from around the world.
Stories from Our Learners
The platform was engaging, innovative, and allowed me to interact with the material in a way I never expected from an online course.

I had never experienced such an immersive platform online, and could argue that it was more effective at building and solidifying knowledge than some of the in-class courses I took in college.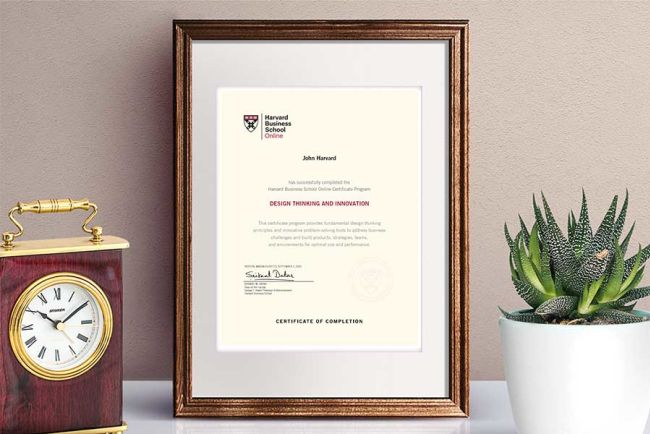 Earn Your Certificate
Enroll today in Harvard Business School Online's Design Thinking and Innovation course.
Apply Now