Data Science for Business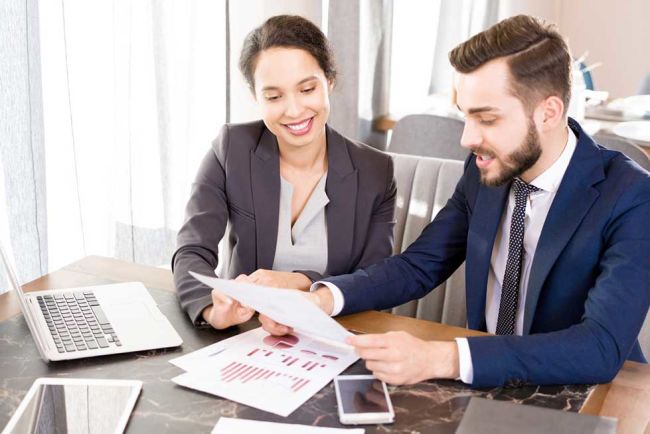 Data Science for Business
Move Beyond the Spreadsheet
Data Science for Business teaches you how to effectively use data to tackle your business decisions and motivate those around you to take action based on evidence. Designed for managers, this course provides a hands-on approach for demystifying the data science ecosystem and making you a more conscientious consumer of information.

Brought to you by:

What You'll Learn
The course will be delivered via HBS Online's course platform and immerse learners in real-world examples from experts at industry-leading organizations. By the end of the course, participants will be able to:
Move beyond the spreadsheet with a foundational understanding of data science tools, processes, and models, to understand the importance of data science and how it relates to business decisions and organizational success
Leverage data science to hone your decision-making skills and learn how to identify and avoid common mistakes while interpreting datasets, metrics, and visualizations
Create a data-driven framework for your organization and for yourself; develop hypotheses and insights; identify data and missing components; and speak a common language with your data teams to lead to actionable recommendations
Understand key techniques such as data curation, regression models, prediction and analyses, and visualization, and learn how to read basic code, such as R, in order to comprehend the syntax that informs data requests
Assess applicable methodologies in statistics, data analytics, and data science by hearing from real-world examples across industries, topics, and business challenges
About the Professor
Yael Grushka-Cockayne is the Altec Styslinger Foundation Bicentennial Chair in Business Administration and Senior Associate Dean for Professional Degree Programs at the University of Virginia Darden School of Business, and was formerly a Visiting Professor of Business Administration at Harvard Business School and Professor of Business Administration. Her research and teaching activities focus on data science, forecasting, project management, and behavioral decision-making. Her research is published in numerous academic and professional journals, and she is a regular speaker at international conferences in the areas of decision analysis, project management, and management science. In 2014, Grushka-Cockayne was named one of "21 Thought-Leader Professors" in Data Science.
Who Will Benefit
Aspiring Managers
Get a headstart on your next career by gaining new technical skills and a data-driven mindset.
Managers and Rising Leaders

Dig into your organization's datasets to create compelling business plans that increase revenue while mitigating risk.
Product Managers
Develop market-driven products by using data to identify and predict market size, competition, and buyer trends.
Program Structure
Data Science for Business consists of approximately 20 hours of material delivered over a four-week period. You can complete the coursework on your own time while meeting regular deadlines.
Syllabus
Data Science for Business will teach you how to think beyond the spreadsheet, and effectively use data to tackle your business decisions, becoming a stronger manager. By the end of the course, you should understand how to create a data-driven framework for your organization or yourself; develop hypotheses and insights from visualization; identify data mistakes or missing components; and, speak the language of data science across themes such as forecasting, linear regressions, and machine learning to better lead your team to long-term success.
Learning requirements: In order to earn a Certificate of Completion from Harvard Online and Harvard Business School Online, participants must thoughtfully complete all 6 modules, including associated quizzes, by stated deadlines.
Modules
Case Studies
Takeaways
Key Exercises
Module 1: The Data Science Shift

Carvana: Good Data and Bad Buys

Apply the steps of the Data Driven Decision Framework
Identify the benefits that data science brings to business problems

Translate business problems into data hypotheses
Explore and describe datasets
Use visualizations to generate hypotheses

Module 2: Data Wrangling

Fannie Mae: Identifying Investments

Relate the quality of data with the the quality of the conclusions
Assess the quality of data
Guide decisions for merging tables and managing missing data

Prepare and clean data for analysis
Examine data dictionaries
Design table joins
Identify solutions for managing missing data

Module 3: Visualization

Incorporate visualizations throughout the data science process
Interpret charts and graphs
Develop questions from visualizations
Design visualizations for clear communication with maximal impact

Critique existing charts and identify methods of improvement
Generate insight with graphs
Design visualizations to express data clearly

Module 4: Time Series Forecasting

NICU beds: Creating Capacity

Connect yesterday's data with tomorrow's prediction
Evaluate temporal patterns in data
Match the time scale with the business problem
Select appropriate smoothing techniques for time series forecasting

Determine when time series analysis is useful and informative
Select appropriate methods for exponential smoothing

Module 5: Linear Regressions

Bark Gift Shop: Motivating Managers
ATO Pictures: Marketing Movies

Interpret linear regression results
Extend intuition into analysis
Apply advanced methods to gain sophistication and insight to your understanding

Identify relationships between variables
Write hypotheses
Explain the parts of a linear model, including interactions and dummy variables
Interpret linear regression results

Module 6: Logistic Regressions and Machine Learning

Differentiate linear and logistic regression
Conceptualize Machine Learning
Evaluate model fit

Complete a confusion matrix
Interpret results from logistic regression, CART, random forest, lasso, and neural networks
Select a model to guide decisions
The HBS Online Advantage
World-class faculty
Edge-of-your-seat online learning
Global peer collaboration and networking
Real-world, case-based learning
Harvard Business School Online offers a unique and highly engaging way to learn vital business concepts. Immerse yourself in real challenges faced by business leaders across a variety of industries. You'll wrestle with the same issues and imperfect information, while problem-solving and interacting with fellow learners from around the world.
Stories from Our Learners
This course was impactful especially using case studies of real-life situations to solve complex and confusing problems. The results of this will help improve my managerial decisions within and outside the organizations to minimize risks and increase profits

This course had an amazing instructor, amazing examples, and an amazing user interface that made it easy for me to grasp the material and learn simultaneously with others around the world.

The platform was engaging, innovative, and allowed me to interact with the material in a way I never expected from an online course.

I had never experienced such an immersive platform online, and could argue that it was more effective at building and solidifying knowledge than some of the in-class courses I took in college.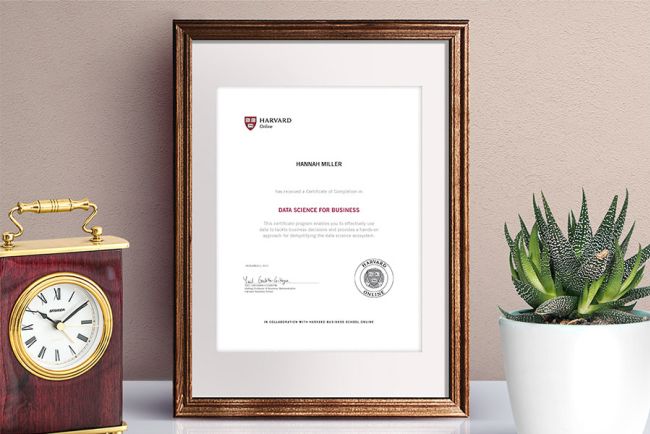 Earn Your Certificate
Enroll today in Harvard Online's Data Science for Business course.