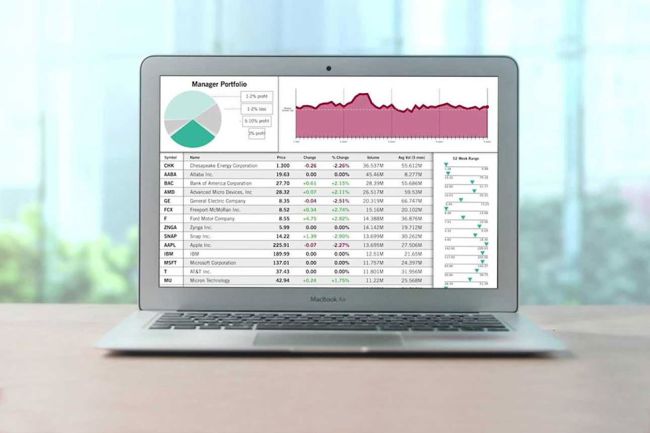 Grow the Value of Investment Portfolios with Alternative Investments
Alternative Investments will equip you with the skills, confidence, and strategies to assess potential investment opportunities in private equity, hedge funds, and real estate, and enable you to leverage them to maximize value and diversify portfolios.
Apply Now
What You'll Learn
Speak the language of alternative investments so that you can better communicate and collaborate with your colleagues and customers
Evaluate alternative investments—including private equity, private debt, hedge funds, and real estate—and identify their defining elements, such as size, risk, and liquidity
Develop the confidence and ability to assess potential investment opportunities and maximize the value of investment portfolios
Gain the skills and strategies to choose the right alternatives manager or become that future manager yourself
About the Professors
Victoria Ivashina is the Lovett-Learned Chaired Professor of Finance at Harvard Business School and the faculty chair of the Global Initiative for the Middle East and North Africa region. She is also a Research Associate at the National Bureau of Economic Research, a Research Fellow at the Center for Economic Policy Research, a Visiting Scholar at the Federal Reserve Bank of Boston and the European Central Bank, and an Associate Editor of the Journal of Financial Economics and the Journal of Financial Intermediation.
Randolph Cohen is a Senior Lecturer in the Finance Unit at Harvard Business School. His research focuses on the interface between institutional investors' actions and price levels in the stock market. Cohen has helped start and grow a number of investment management firms, and served as a consultant to many others.




Arthur Segel is a Baker Foundation Professor of Management Practice at Harvard Business School. Segel was a founder of TA Realty, a real estate advisory, investment, and development firm, and co-founded The Tobin Project, a nonprofit that was awarded in 2012 the MacArthur Genius Award for an Organization for its work on inequality. Segel has been named one of the 30 most influential players in real estate in the world by Private Equity Real Estate.
Who Will Benefit
Early-Career Financial Services Professionals
Gain a competitive edge by developing actionable skills in the alternative investments field you can leverage to advance your career.
Aspiring Finance or Investment Professionals

Jumpstart your career by gaining the skills and knowledge to join one of the fastest-growing fields in finance.
Non-Finance Professionals
Learn to speak the language of alternative investments to better serve your financial services clients' needs and become a more effective attorney, CPA, or overall colleague.
Please Note: Participants should have completed an undergraduate-level introductory finance course or equivalent at some point during their education and possess a basic understanding of capital markets, portfolio theory, and risk and return.
Program Structure
Alternative Investments consists of approximately 35 hours of material delivered over a five-week period. You can complete the coursework on your own time while meeting regular deadlines.
Interested in using this course for CFA Institute credit? CFA Institute (including the Chartered Financial Analyst and Certificate in Investment Performance Measurement programs) allows its members the ability to self-determine and self-report continuing education credits earned from external sources. CFA Institute members are encouraged to self-document such credits in their online Professional Learning tracker.
February 2023
Length: 5 Weeks
Program Dates: 2/1/23 – 3/8/23
Cost: $1,750
Application Deadline: January 23
Apply Now
April 2023
Length: 5 Weeks
Program Dates: 4/5/23 – 5/10/23
Cost: $1,750
Application Deadline: March 27
Apply Now
Alternative Investments is part of the Finance & Accounting Learning Track. If you're interested in developing deeper insights and expertise, you can choose to complete three finance & accounting courses within 18 months to earn a Certificate of Specialization.
Syllabus
Alternative Investments will equip you with the skills, confidence, and strategies to assess potential investment opportunities in private equity, private debt, hedge funds, and real estate. You will learn how to speak the language of alternative investments, evaluate types of alternative investments and their defining qualities, and develop the confidence and ability to assess potential investment opportunities and maximize the value of your portfolio.
Learning requirements: In order to earn a Certificate of Completion, participants must thoughtfully complete all 5 modules by stated deadlines.
Modules
Case Studies
Takeaways
Key Exercises
Module 1: Private Equity

BC Partners Acquires Acuris

Learn what private equity is, sources of risk and value, and how it is funded
Analyze the different segments of private equity: growth equity, buyouts, and venture capital

Calculate the value of equity
Identify and rank private equity segments by their attributes and skills required

Module 2: Private Debt, Distress Investing, and Secondaries

Oaktree Capital Management Acquires Pierre Foods's Debt
Blackstone's GSO Capital Invests in Crosstex

Compare and contrast private equity and debt
Analyze investment strategies and sources of value
Identify skills needed for successful distress investing

Classify attributes of investment opportunities
Rank deals by their characteristics

Module 3: Hedge Funds

Activist Investing with The Children's Investment Fund

Learn key elements of hedge funds, including fee structure and sources of risk and value
Understand types of arbitrage and strategies
Characterize core quantitative investing strategies

Calculate alpha and beta
Arbitrage trading simulation

Module 4: Real Estate

Real Estate Valuation with 625 Ground Lessor LLC

Learn how real estate differs from the rest of the alternatives space
Understand types of real estate investments
Compare and contrast secondaries and traditional private equity

Identify phases of the real estate market
Prepare for a real estate negotiation
Conduct valuation analysis
Classify real estate products based on their diversification potential

Module 5: Portfolio Construction

Challenges of Alternatives with PFA Pension Fund

Describe the "money journey" and the key players involved
Interpret metrics to analyze performance
Understand risk and complementarity in portfolios
Discuss trends in alternatives

Test knowledge of lockup period, liquidity frequency, and notice period
Practice analysis of key metrics
Rank investment risks
The HBS Online Advantage
World-class faculty
Edge-of-your-seat online learning
Global peer collaboration and networking
Real-world, case-based learning
Harvard Business School Online offers a unique and highly engaging way to learn vital business concepts. Immerse yourself in real challenges faced by a diverse group of finance experts, including: Rick Childs, Managing Member of 625 Ground Lessor LLC; Mike Even, former Global CIO for Citigroup Asset Management; Chris Hohn, Founder of the Children's Investment Fund; Henrik Poulsen, Chief Executive Director and Chief Investment Officer of PFA Asset Management; Dwight Scott, President of GSO Capital; Nikos Stathopoulos, Partner at BC Partners and Member of the BC Partners Executive Committee; and Matt Wilson, Co-Portfolio Manager and Managing Director of Oaktree Capital Management. Step into their shoes and wrestle with the same issues they faced, while engaging with fellow learners from around the world.
Stories from Our Learners
HBS Online was an invaluable and essential education. The information provided, the quality of the presentation, and the high-level engagement among students surpassed my expectations.

The platform was engaging, innovative, and allowed me to interact with the material in a way I never expected from an online course.

A few weeks into the course, accounting terminology came alive as I realized why accounting is the language of business. I can now talk confidently with clients and understand the business aspect of their problems.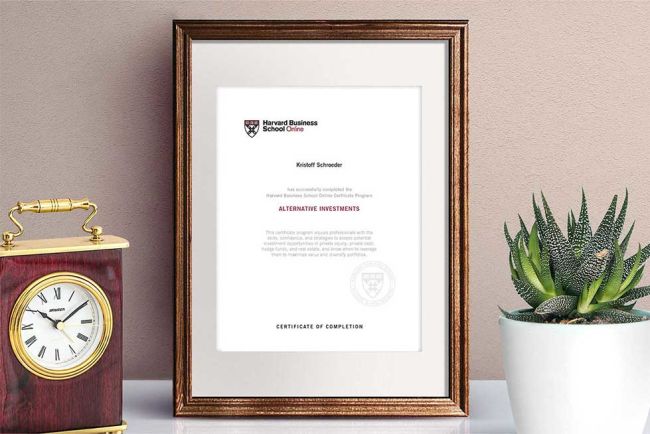 Earn Your Certificate
Enroll today in Harvard Business School Online's Alternative Investments course.
Apply Now